Thousands of Meals from MLK "Day On" Event at MCC
Published on Monday, January 23rd, 2023
Approximately 75 volunteers met at Montgomery Community College to package nearly 10,000 meals in a half-day of service on January 23, 2023. Volunteers from MCC (students, faculty and staff), Communities in Schools, 4-H, Youth Leadership Montgomery, Eckerd Connects, East Middle School, Montgomery County Early College and Troy Rotary participated in the 13th annual Martin Luther King, Jr. "Day On" Challenge.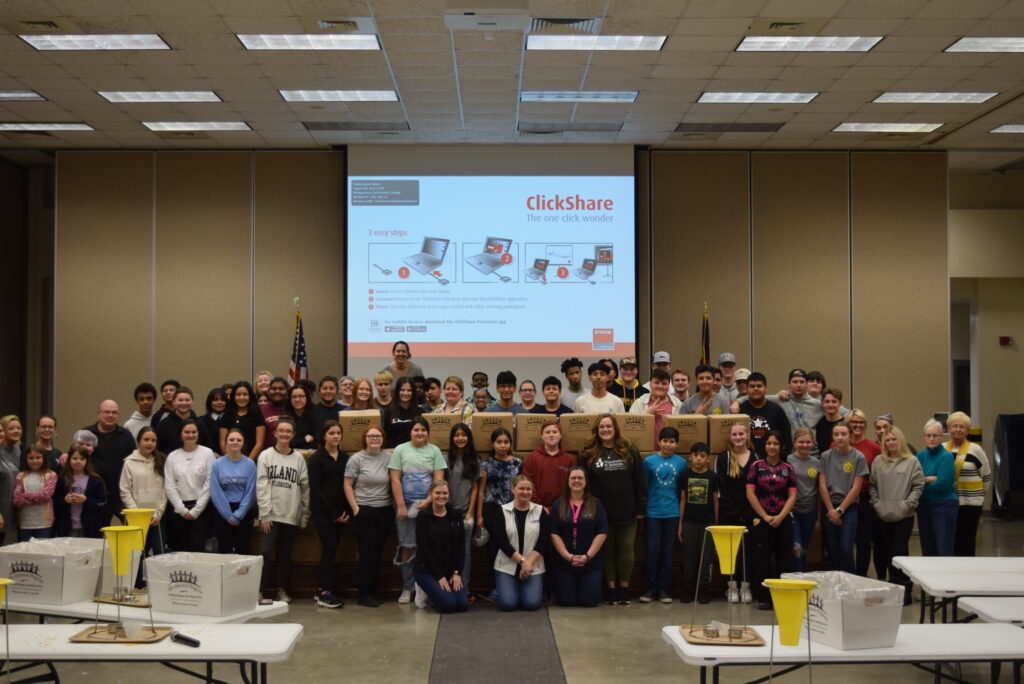 Montgomery Community College was the recipient of a Randolph Electric Member Corporation People Helping People Sharing Success Community Grant. The funds totaling $2,000 supported the meal preparation event. Over 9,500 sealed meals were bagged and placed into boxes that were distributed to Montgomery County Food Pantries and the Backpack Pals program, providing nutritious meals to local neighbors in need. Montgomery County is a rural county with a high poverty rate; local food banks are always in need of additional meals and supplies for local residents.
"We are so grateful to Randolph Electric Member Corporation for their generosity, and for recognizing the merit of our outreach event," said Amy Frieary, MCC's point-person for this event and its Dean of Health and Human Services. "The MLK Day of Service event provides much-needed food for our communities, but also provides a wonderful day of fellowship and service for area youth."
Prior to staging, assembling and delivering the meals, volunteers met in MCC's Library where Brandon Holland, Town Manager of Biscoe, NC, discussed Dr. King's legacy and how each person can make a difference through service to others. The total cost of hosting this event was $4,127, with additional funding provided by the Montgomery Community College Foundation, Troy Rotary Club, Biscoe Lions Club, and the Montgomery County Cooperative Extension. Special thanks go to several individuals who assisted in coordinating this event: Amy Frieary, Dean of Health & Human Services at MCC, Chrissy Haynes, Cooperative Extension Director and Katie Hursey, Communities in Schools Executive Director. Bojangles in Troy donated 100 biscuits for the enjoyment of our volunteers!