All Montgomery Community College accounts now use the same login and usernames are automatically generated. To find your username, go to the tab below and follow the directions to obtain your username and create your password.
If you have followed the below steps and you are still having issues, please submit a ticket to helpdesk@montgomery.edu and include your Student ID number. We will respond as soon as possible.
I Need Help With…
Username and Password
All MCC students will need their login information in order to access certain student resources. Login conventions will be the same for all systems. Students will need to know their User ID to login to these services.
Create or Reset Password
Please click the button below to open the password reset instructions.
Find Your Username
Obtain your Username:
MCC usernames will be automatically generated. It is possible that your username has changed since the last time you were a student at MCC. It is important that you use the button below to obtain your username. You will need this username for all services. To find your username, click the button below. On the Self-Service login screen, click 'Forgot your USER NAME'. Enter your first and last name and your personal email address. Note: This should be the same email address MCC has on file for you. Click Submit. You will receive an email containing your username shortly."
WiFi Help Docs
If you try to connect to MCC's wireless network, you will notice the choices are MCC_Guest and MCC_AD. In an ...

Free Office 365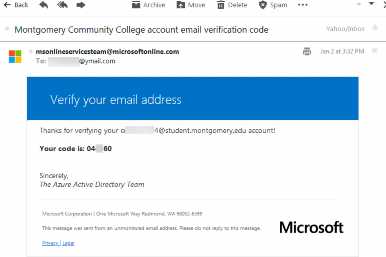 With your MCC student email account, you can download Microsoft Office on up to five (5) different devices absolutely free! ...

Bookstore
For assistance please contact Touger Vang
Email: vangt6898@montgomery.edu
Phone: 910-898-9651
Office Location: Front Desk, in the Library
Support
Blackboard
Why are my courses not showing up in Blackboard Learn?
Your courses will not show up until the first day of class. If you register late, it may be 24 hours from the time you registered until your course is available. If you still do not see your course(s), please call (910)-898-9646.
Where can I find technical help with issues such as logging in or getting started with Blackboard Learn?
Are there computers on campus with internet access for students?
Yes! Students may use the computers in the MCC Library and individual student assistance is available in the CATS lab located at the back of the library. To login to these computers, you will need your username and password created from the instructions above.
How do I check my grades on Blackboard Learn?
Your instructor may have created a tool in the menu on the left side of the screen titled, Grades or My Grades. If you do not see this, look for a menu titled Tools, and you should find a My Grades link inside.
Do I have to use special software to access Blackboard Learn?
Blackboard Learn is a web-based tool, so any current internet browser that has JavaScript and cookies turned on should be able to access most content. Click here to view the list of supported browsers for Blackboard Learn. Montgomery Community College strongly recommends NOT using Internet Explorer. You may need additional software or plug-ins depending on what content your professor requires for class. For example, your instructor may post content that requires the Adobe Flash Player to view.
There are several browser plug-ins commonly required to display content in Blackboard Learn:
Can I use the mobile app for Blackboard Learn?
The Blackboard Mobile Learn app offers access to various content and features within a Blackboard Learn course and is available for multiple mobile devices.
There is a mandatory course assignment in all my online courses - Do I have to complete each course?
Yes! It is important that you complete the mandatory assignment by the due date for EVERY course you are enrolled. If you do not complete the assignment by the due date, you will be automatically dropped from the course.
Email
Access student email via the web by clicking on the Email link under the MCC Tech Trail menu or directly at https://outlook.office365.com/mail/
Your MCC email address will be UserID@student.montgomery.edu. Example: If your UserID is smithp5622, your email address will be smithp5622@student.montgomery.edu.
If you have already created a password at the Password Portal, you will use the same password for your student email. If you need to reset your password, go to the Password Portal.