Russell Fuller: At Your Service
Published on Tuesday, July 12th, 2022
It is hard to imagine meeting a busier person than Russell Fuller. Not busy like a honey-do list (though I'm sure he has one of those) but busy in the sense of servitude, especially when it comes to events, projects and interests related to United States veterans. Though retired, this 82-year-old veteran keeps a full calendar, whether he is serving the Shiloh Church Association, completing paperwork and raising funds to commemorate the Warner Bridge, organizing and participating in Veteran's Day events, serving on Biscoe's monument committee, acting as president of the local veteran's council or preserving and displaying a vast collection of militaria in Denton.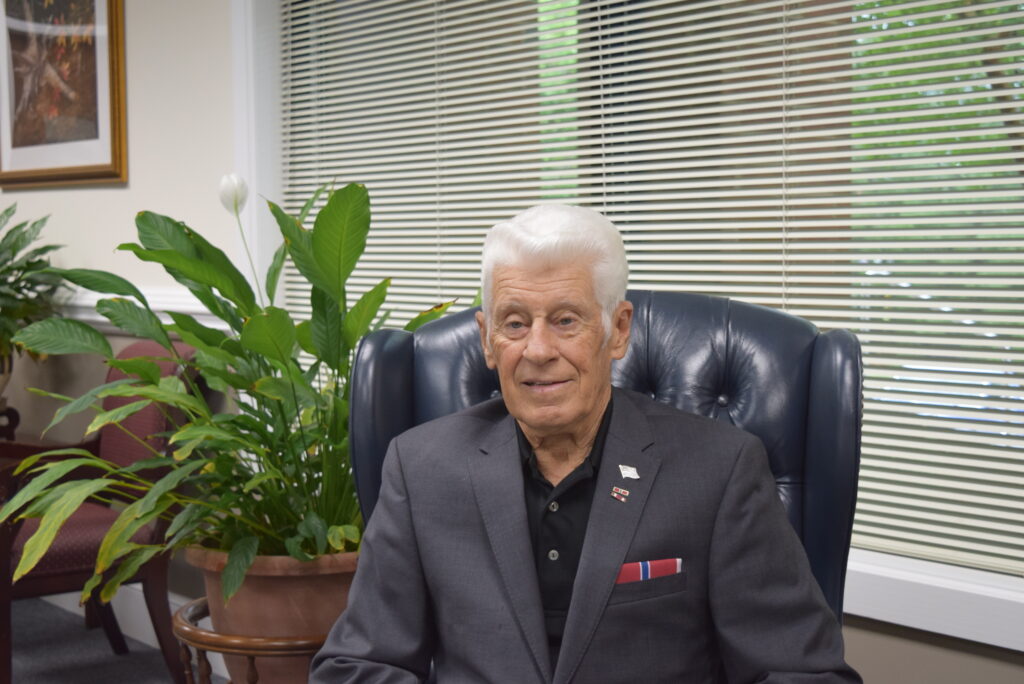 Russell was born in Henderson, North Carolina, and his parents decided to move to Troy when he was about two years old. After completing High School plus a semester of college, he decided military service was his best option. On a spring morning in 1959, he journeyed to his local recruiting station, intending to enlist in the United States Air Force. "The Air Force guy isn't here today," explained the man at the desk. "How about the Army?"
After what he perceived to be an unremarkable basic training, Private Fuller stood with fellow recruits waiting for orders. One by one, the men gathered their belongings and left the room, and at the end of the process, Fuller was alone. His commander stared at him for a bit, then handed him a sealed envelope. Fuller was to report to the Pentagon. For what purpose, neither man knew.
After a strange, cryptic, and tense week full of questions, sessions with polygraphs and seemingly endless meetings with commanders, Private Fuller was granted a position within the (ACSI) Assistant Chief of Staff for Intelligence, the Pentagon. During his 20-year career, it is fair to say that sometimes people knew who Russell was, but often they did not.
"I suppose you could say I was a researcher," says Russell. "There were always specific orders from ACSI, yet the people I worked with didn't always know what I was doing." His assignments took him all over the world, from the American Embassy in Paris, France, to Switzerland, to Vietnam, Germany and stateside to NASA in Alabama and to Fort Bragg here in North Carolina. To this day, he doesn't know why he was selected for the ACSI path. "I was a simple kid, and very honest. After passing numerous tests, they knew I could be trusted."
Russell Fuller retired from the United States Army after 20 years of service (where he was awarded the Bronze Star, the Meritorious Service Medal plus other medals) and returned to Troy. Like many veterans returning from service, he knew his local community college had options worth considering.
Russell dove in headfirst at MCC, exploring heating & air conditioning, auto mechanic, auto body and small engine repair. He reconnected with lifelong friends and fellow veterans who worked at MCC.
"Montgomery Community College was a good place to come home to," explains Fuller. "After a remarkable military career, I needed to decide my next chapter in life. MCC had many good options and helped me fine-tune strong skills I had developed in the Army."
Fuller supports MCC with his time, talents, and gifts. We see him on our campus often, and several students over the years have been touched by Fuller's generosity in the form of scholarship assistance. He attends many of our functions, and is a stalwart supporter of the MCC Foundation.
A nontraditional student later in life, Fuller believes in the role of community colleges. "Many people, no matter their walk in life, have times when they need to step back and examine their path. MCC helped me do that out of the military, and I'm grateful."
We are grateful to you, Russell. Thank you for your tireless service to our nation, to local veterans, to our community and to Montgomery Community College.