RichmondCC's CDL Program Expands with MCC Partnership
Published on Wednesday, September 27th, 2023
Richmond Community College is expanding its Truck Driver Training program into Montgomery County thanks to a partnership with Montgomery Community College. MCC students will now have access to earning a commercial driver's license (CDL) using resources from RichmondCC's Truck Driver Training program.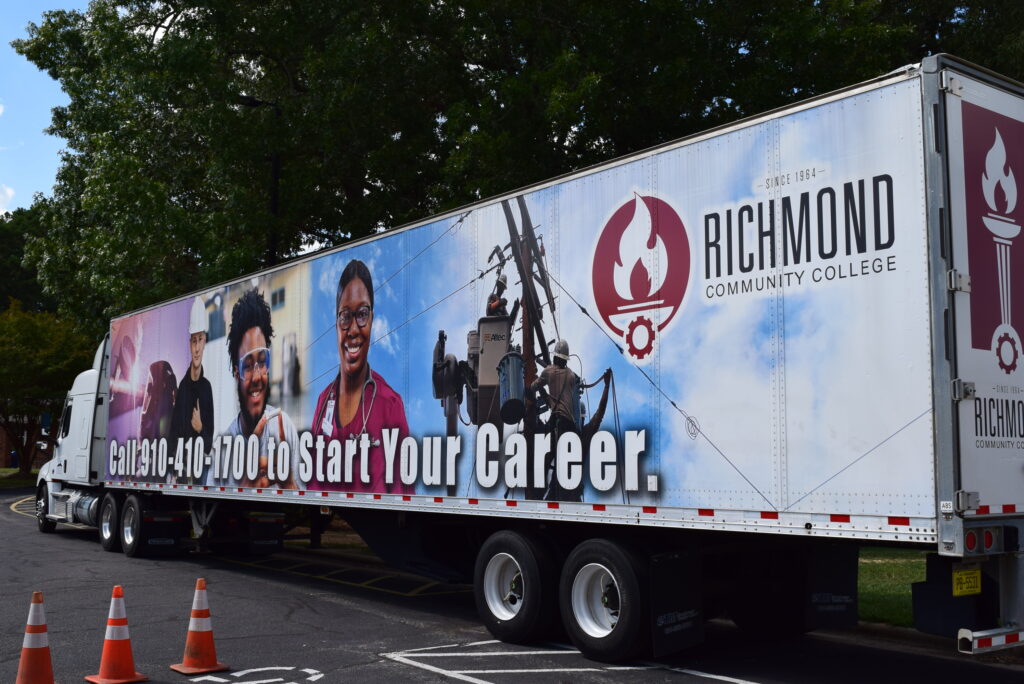 "We at MCC are very proud to be able to work together with RichmondCC to expand this training into our county," said Dr. Chad Bledsoe, president of MCC. "It's going to meet the needs of both our employers and potential employees, and it's just one example of how community colleges can partner together to serve our communities."
Bledsoe noted how vital the trucking industry is both on a local level and national level, quoting a deficit of about 78,000 truck drivers nationwide. "We need people to keep this industry going, and without truck drivers we wouldn't have the goods and services we need," Bledsoe said.
Dr. Dale McInnis, president of RichmondCC, explained how the program will work using resources, including 18-wheelers and instructors from RichmondCC, for the class in Montgomery County. "We saw an opportunity to support our friends here in Montgomery County. It makes no sense to replicate high-cost programs when we have existing equipment that will satisfy the demand," McInnis said.
The 9-week training program at MCC will begin Oct. 23. The class will run Monday through Thursday from 7:30 a.m. to 5 p.m. Training includes classroom lecture, range driving and road driving. The cost of the program will be $999 for MCC students.
"You compare that price to what's happening across the rest of the state or with private companies, which are charging three to four times that amount. We can only do that because of the support from our friends in the General Assembly and the leadership from people like Sen. Dave Craven," McInnis said. The senator was at the ceremony held Tuesday at MCC to show his support for this partnership between the two institutions.
"I want to thank Dr. Bledsoe and Dr. McInnis for the hard work they put into this initiative. This is going to be a great avenue for putting more truck drivers on the road, continuing to move North Carolina forward," Craven said.
RichmondCC started its own Truck Driver Training program in Scotland County a year ago. It has graduated four classes that each had 100 percent enrollment, 100 percent completion and 100 percent passage rate on the CDL exam. The program now includes a Class B Commercial Driver's License, which will provide people with the license to drive over-sized vehicles such as straight truck, box trucks and dump trucks with small trailers. That class kicks off Oct. 2 in Scotland County. To sign up for the Truck Driver Training program at MCC, call 910-898-9674.