NC's Future Forests are in Caring Hands
Published on Wednesday, June 23rd, 2021
The concept of stewardship has always fascinated Amelia Thompson. A second year student in the Forest Management Technology program at Montgomery Community College in Troy, North Carolina, Thompson was searching for a way to serve God and people in the setting she prefers: nature. "The idea of caring for land and the trees on it came naturally to me because it represents a lot of my upbringing," explains Thompson. She was raised and homeschooled in Morganton, a city on the Catawba River in the foothills of the Blue Ridge Mountains. Morganton, self-proclaimed as Nature's Playground, is surrounded with scenic rural landscapes, bountiful natural resources, and abundant recreational opportunities. With the 500,000 acre Pisgah National Forest, Linville Gorge, Lake James State Park and South Mountains State Park nearby, it is no surprise Thompson developed an early interest in all things outdoors.
Nearing the end of high school and wanting to "give back, help people and care for the land" Thompson began an online search for career ideas. She came upon North Carolina's three community colleges with forestry programs, and decided on Montgomery because of its central location, interesting student activities and low cost. (It didn't hurt that her husband-to-be was from a neighboring county and had earned his degree from the school.) Her transition was smooth, but the Piedmont presented new and unusual challenges and opportunities for discovery.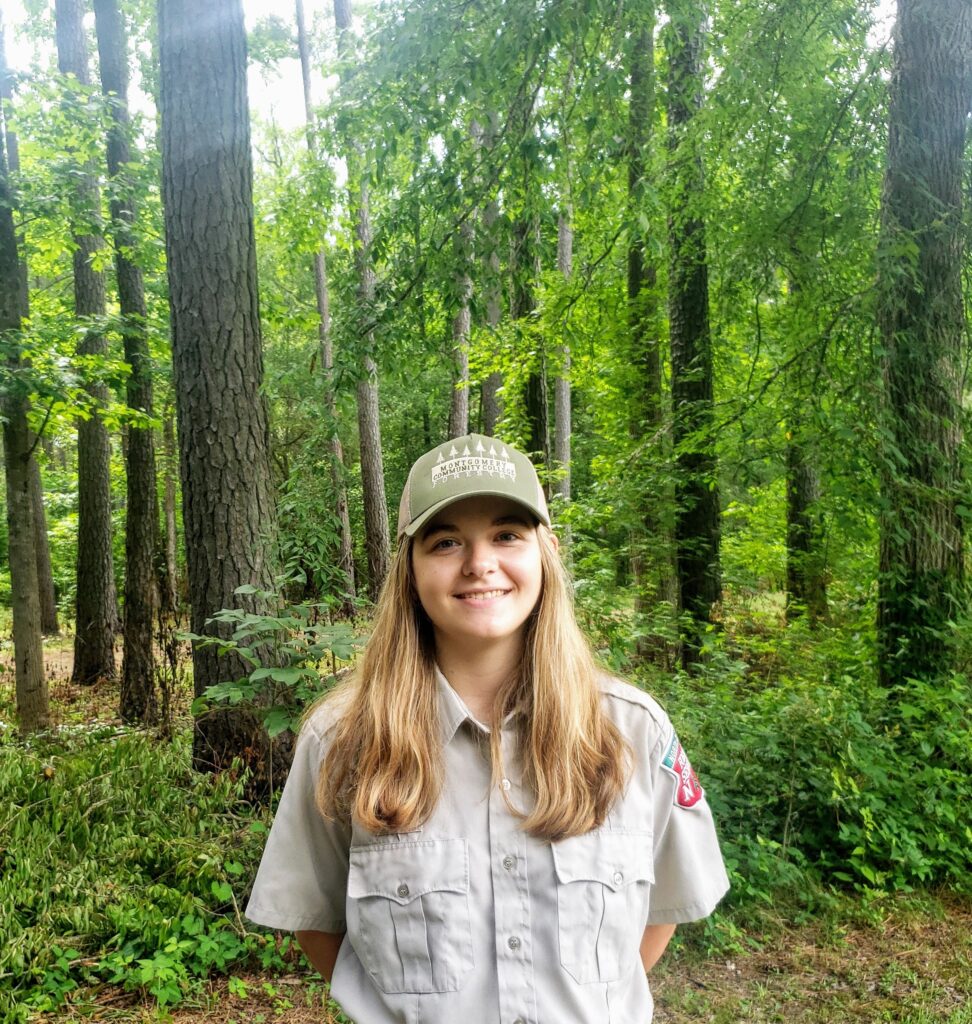 "The forest ecology in this part of the state is spectacular," says Thompson. "Morganton is in the western part of North Carolina, so I was used to deciduous hardwoods and mountainous terrain. Here, our sloping sandy soil is perfect for conifers- and ticks. I've really enjoyed studying a new family of trees and logging practices."
Thompson is the only female student in her Forestry Management Technology cohort, a fact which she apparently hasn't noticed. "I played football, I'm an amateur boxer. I lived with my dad and brother so I'm used to being around men and competing with them." Thompson runs a chainsaw, takes soil samples, operates machinery and uses GIS technology just like everyone else in the class. "I'm physically strong and I have a lot of self-discipline, so I fit right in."
Thompson is also fitting in across the state. She is a recent winner of a Forest Education and Conservation Foundation scholarship given by the North Carolina Forestry Association. This summer she is interning with the North Carolina Forest Service. Driving her state-provided truck, Thompson travels to neighboring counties completing district-specific tasks as assigned. "I really like the Forest Service mission areas," says Thompson. "Of all the ways they support and serve the state, the one I find most intriguing is fire control and prevention."
The Montgomery Community College campus features 134,400 square feet of facilities on 153 acres of land nestled in the hills of the scenic Uwharrie National Forest. As working caretakers of the forested campus, forestry students maintain three nature walking trails ranging from .3 to 2.0 miles in length and a 100-acre Forestry lab. Post-pandemic, Thompson and her cohort will complete their second year of forestry management technology curriculum in person, on the ground and outside and for that she is grateful.