MCC's Taxidermy Program Takes Flight
Published on Tuesday, October 12th, 2021
MCC's taxidermy classroom is full of feathers these days, with students hard at work bringing back lifelike qualities to an interesting beautiful group of birds. Both the day and evening classes cover fowl in their first semester, which is an important and logical first step in mastering taxidermy techniques.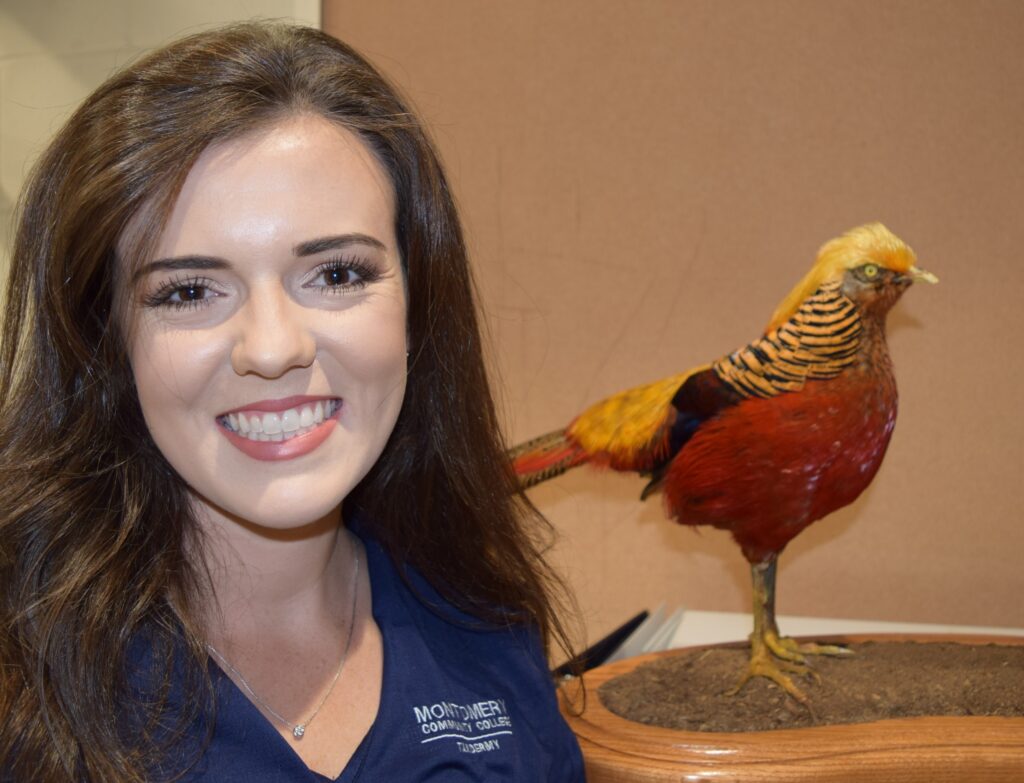 "Fowl are the best starting place for most students," explains MCC taxidermy instructor Jordan McDuffie. "They are a manageable size for beginners, and birds really allow students the opportunity to test their artistic skills." Turkeys, pheasants, owls, chickens, roosters and even swans have come through MCC's taxidermy program, however most of McDuffie's students are starting with ducks. "Ducks are readily available and present exciting possibilities in terms of mounting. You never realize how beautiful and colorful a duck really is until you have an opportunity to hold one in your hands over the course of a semester."
In addition to her teaching duties at MCC, Jordan also owns and operates Uwharrie Taxidermy in Asheboro. Like many taxidermists, she came to the field through an interest in hunting. She hunts both mammals and fowl, having lent her artistic skills to a wide variety of animals. Next semester, which focuses the preservation of mammals, McDuffie will begin a project she's been anticipating for a long time: a coyote.
"I like to do a project right alongside the students. We need the support and feedback from other artists in order to do our best work."
Of McDuffie's 11 students, eight of them are female, and this doesn't surprise her. "Women have a natural gift as taxidermists: patience. Some of our work here is tedious and extremely detail oriented. Women seem to have a knack for taking the time needed to beautify their subjects."
MCC's taxidermy studio provides 1,951 square feet of laboratory and classroom space. Learning takes place in a large, naturally-lit studio with generous student work areas complete with individual lighting and storage. Most of the class time is spent in hands-on experiential skill-building, where students practice techniques on their specimens. The studio also provides a separate ventilated paint room for applying color and epoxies. There is a separate salting and freezing area as well, with a spacious walk-in freezer for ample specimen storage.
The program operates on a three-day schedule, Monday through Wednesday, from 8:00 a.m. – 4:00 p.m. for day classes, and 5:00 p.m. – 9:00 p.m. for evening classes. The program has a diploma option as well as certificates for bird, fish and mammal.