MCC's Forestry Club Competes at Annual Cradle Competition
Published on Wednesday, October 11th, 2023
MCC left its mark at the John G. Palmer Woodsmen's Meet, held in the Pisgah National Forest on October 7, 2023. Competing against other Forest Management colleges like Haywood Community College, Mountain Gateway Community College, Wayne Community College, North Carolina State University and Penn State Mont Alto, MCC achieved impressive placements in various events!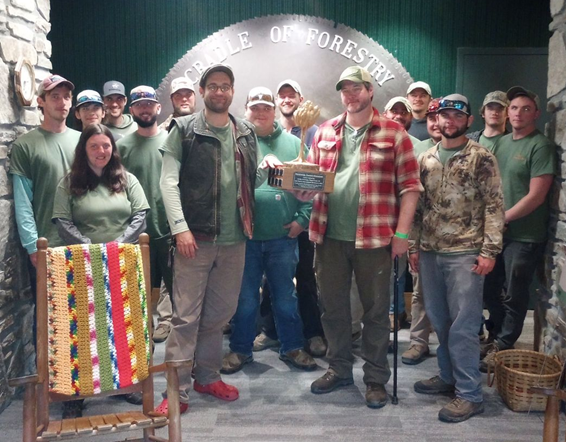 One of the standout moments was MCC's victory in the Dendrology event, where Mark Knipp and Andrew Weisbecker displayed their expertise in tree identification and earned the top spot. MCC also placed first in the Pole Fell event, thanks to the precision of Erick Lamb and Blake Hall.
Notable second-place finishes included the Log Roll with Sasha Smith, Ryan Rubinoski, Alex Maples and Kaleb Matthews; the Water Boil with Darren Britt and Sawyer Lowe; the Women's Chainsaw with Amy Reeves; the Quiz Bowl with Andrew Weisbecker, Liam Mckinney, Andrew Martin and Mark Knipp and Orienteering with Alex Maples.
Third place was secured in Women's Crosscut with Amy Reeves and Sasha Smith. The team also earned fourth place in several events, including Axe Throw with Ryan Rubinoski;
Men's Chainsaw with Alex Maples; Jack and Jill Crosscut with Amy Reeves and Hunter Cheek and both Pole Climb and Horizontal Speed Chop with Blake Hall. Beyond the competitive aspect, the John G. Palmer Woodsmen's Meet provides students with a unique opportunity to connect with nature and fellow competitors. It fosters camaraderie and a deeper appreciation for the history of forest management that has its roots in the Pisgah National Forest area. In 1898, the Biltmore Forest School was founded in what is now the Pisgah National Forest, making it the first forest management school in America. For this reason, North Carolina's Pisgah area is known as The Birthplace of Forestry in America