MCC Welcomes Ms. Bennett to its Board of Trustees
Published on Wednesday, August 12th, 2020
Though masked and practicing social distancing, Montgomery Community College officials were present for the swearing-in of new trustee Ms. Tawanda Bennett to its Board. Board Chair Claudia Bulthuis and College President Dr. Chad Bledsoe were on hand to welcome Bennett to the MCC family. A replacement to former trustee Paula Covington, Bennett's term begins August 2020 and extends through July 2024.
A resident of Candor, Ms. Bennett is a graduate of Montgomery Community College, Gardner Webb University and Webster University. She holds a Master's degree in Mental Health Counseling, and is a Licensed Clinical Addiction Specialist in the state of North Carolina. Ms. Bennett is contracted by Dr. John Woodyear at Family Care Associates in Troy to provide counseling services to his patients through his Medication Assisted Treatment (MAT). She is CEO of Why Not Me Services, an outpatient service in Biscoe which advocates for victims of substance abuse and other mental health issues.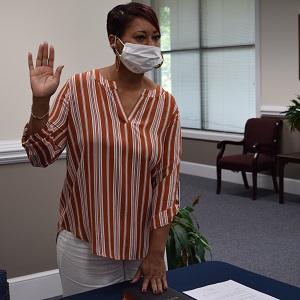 "When I was approached about this trustee position, it was a very easy decision for me," explains Ms. Bennett. "I started my education right here, and it feels good to be in a position to give back to a College so instrumental in putting me on my career path in behavioral health care. If my experiences in promoting mental health, addiction awareness and wellness can benefit the MCC family, then this is where I need to be. Changing Generations One Day at a Time is well worth it."
In addition to her service to MCC, Bennett is involved with the National Association of Colored Persons – Montgomery County, Montgomery County 2020 Vision and Leadership Montgomery. She is founder of LoveConquersOutreach and CEO of We Only Win, a nonprofit community center in Biscoe to support individuals struggling with mental health issues.