MCC Unveils New Student Counseling Center
Published on Monday, November 9th, 2020
Montgomery Community College (MCC) is pleased to announce the opening of its new Student Counseling Center! The facility is located in Room 129 in Blair Hall (formerly known as building 100), just around the corner from its previous location.
When students enter the new Center they will be met with an open, spacious common area with furniture for relaxing as well as new computer stations for students who need a quiet space to work. The three-room suite also allows for private meetings with College Counselor Diana Sanchez, or Allie Morgan, the College's Retention Specialist and Success Coach.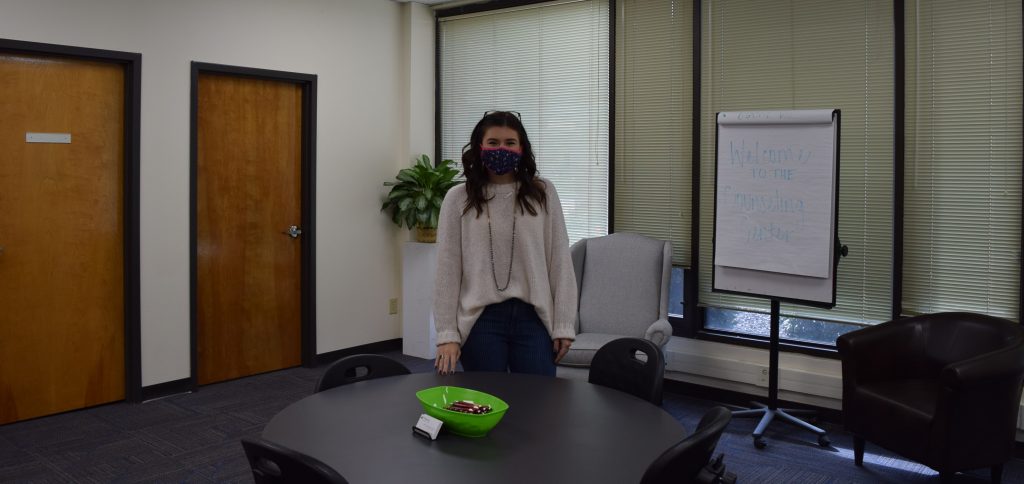 Students have access to a bounty of resources such as help with special accommodations, course placement assistance, navigating the process of new student account set-up, tutoring services, study skills, career exploration, transfer success, time management skills, mental health, accessing legal services and more. "Students have a wide variety of needs, and their needs change during their time here at the College," explains Diana Sanchez, MCC's Counselor. "If we can't help them, we know people who can. We meet students right where they are."
Despite the COVID-19 pandemic, student counseling is underway every day. MCC staff are using virtual or phone conferencing to help students. "Even during the pandemic, students are pressing ahead with their plans and goals." Students can come to the new Student Counseling Center in-person, or set up a virtual appointment by contacting Sanchez at sanchezd@montgomery.edu or Allie Morgan at morgana@montgomery.edu. Staff are ready to assist students in the manner they feel comfortable.