MCC Turns Up Heat on Pottery Program with New Kiln
Published on Thursday, March 25th, 2021
Hundreds of students and thousands of pieces of pottery later, one of MCC's nine kilns is due for retirement. The College's 20 year-old salt kiln is undergoing a complete replacement, with a new structure being built from the ground up.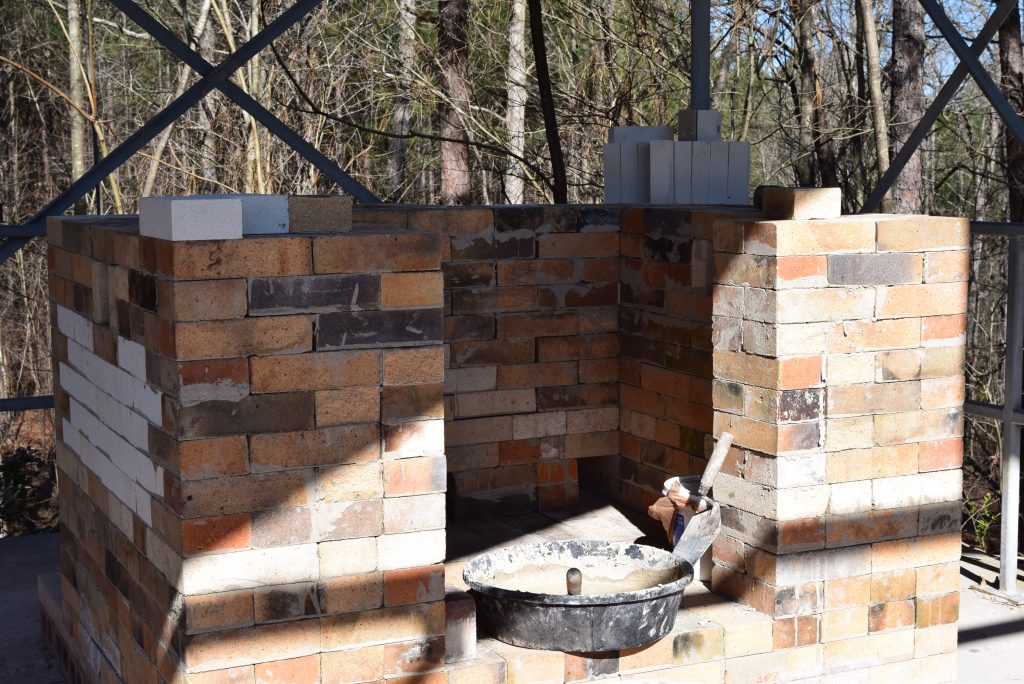 For the state's oldest pottery program, having an effective salt kiln is very important. "This is one of our hottest kilns" explains Pottery Program Director Sydney Williams. "Given the clays we use and the abundance of salt-fired work locally, having a new salt kiln for our students makes perfect sense." Salt kilns function at what is called Cone 10, a pyrometric measure estimated at 2,345 degrees.
At peak temperature, salt vapors are injected into the kiln where they react with silica in the clay to produce sodium silicate. Sodium silicate is essentially liquid glass, and naturally glaze the pots with a bright, clear, glassy finish. Classic salt-glazed pots, often seen in this part of North Carolina, have a very distinctive orange-brown coloring, however salt applications marry well with many types of clay.
The new salt kiln will come online this fall after several months of construction which is underway. The new kiln has both hard and soft bricks fastened with special mortar, with strong bolts for the steel frame assembly. With a typical arched ceiling, the new kiln will feature a key at the top, critical to the kiln's stability. Like its predecessor, the new salt kiln will reside outside Building 300, underneath a new shed structure.
For those readers who have always wanted to try their hand at pottery, beginner-friendly classes start in May, with online registry at www.montgomery.edu.
The Pottery Program is also having its first annual Spring Sale! Online sales will occur April 20 & 21 on the program Facebook page https://www.facebook.com/MCCPottery/ and in person at Building 300 on the MCC campus on April 22nd and 23rd. For more information on either summer classes or the upcoming sale, reach Sydney Williams at williamss@montgomery.edu or 910-898-9675.