MCC to Provide Custom, High-Tech Training to Mohawk Employees
Published on Tuesday, October 4th, 2022
Montgomery Community College has secured over $70,000 in state funds for customized training based on systems upgrades and equipment for Mohawk Industries, Incorporated.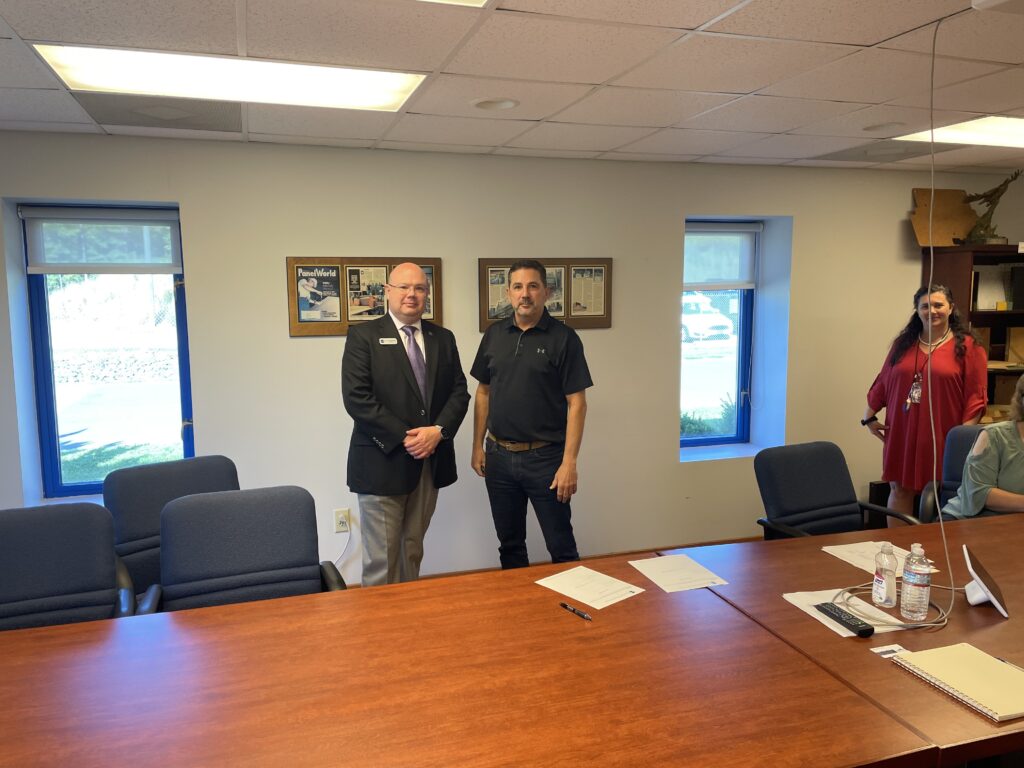 Mohawk Industries, Incorporated in Mt. Gilead is one of the company's four locations in North Carolina. In 2006, Mohawk purchased Montgomery County-based Homanit USA, an existing medium density fiberboard manufacturer. Mohawk has since invested greater than 40 million dollars in new technology and will partner with Montgomery Community College to provide the needed training that will allow employees to support and maintain the company's new technology. Training will be provided to Automation Technicians, Electric Maintenance Technicians 1, 2 and Leads on a variety of subjects focusing on industrial maintenance, safety and leadership skills.
"As the world's largest flooring manufacturer, Mohawk Industries is innovating in order to grow and prosper," explains Steve Russell, Plant Manager at the Mt. Gilead location. "Investing in technology, and training our employees to use it is our primary focus right now. Mohawk's process improvements involving sustainable manufacturing will result in better customer solutions and more opportunities for our team of employees."
Jessica Hamilton, MCC's Director of Business and Industry Services is working with the company to create a unique, effective curriculum which will be exciting and valuable to Mohawk employees. "Mohawk Industries is a best-in-class employer, and Montgomery County is fortunate to have such a forward-thinking manufacturer right here in our back yard."
"We are so pleased that Mohawk Industries is partnering with us to train its employees. There is a feeling in corporate America that training is expensive, and that it's difficult to take employees away from their work in order to train them," explains Dr. Chad Bledsoe, President of Montgomery Community College "That couldn't be further from the truth, and our Customized Training Program model proves that."
The Customized Training Program supports the economic development efforts of the State by providing education, training and support services for eligible new, expanding and existing business and industry in North Carolina through its network of 58 community colleges, serving all 100 counties of the state. The program goal is to foster and support three key aspects of your company's well-being: Job Growth, Technology Investment and Productivity Enhancement. During FY 2020-2021 the number of projects across the state totaled 255, training 15,409 individuals with an investment of $4,905,092.92. Each college also provides support to existing industry with 527 companies served, 6,291 trainees with $2,924.498.25 in expenditures. If you are interested in learning about support services for your business please contact Jessica Hamilton, MCC's Director of Business & Industry Services at 910-898-8974.
Mohawk has 42,000 employees across the globe. Its innovative ceramic tile, carpet, rugs, laminate, wood, sheet vinyl, and luxury vinyl tile products adorn residential and commercial spaces around the world, and are sold in more than 170 countries. Mohawk's vertically-integrated manufacturing and distribution processes provide competitive advantages in the production of carpet, rugs, ceramic tile, laminate, wood, stone and vinyl flooring. The company's brands are among the most recognized in the industry and include American Olean, Daltile, Durkan, IVC, Karastan, Marazzi, Mohawk, Mohawk Home, Pergo and Quick-Step. During the past decade, Mohawk has transformed its business from an American carpet manufacturer into the world's largest flooring company with operations in Australia, Brazil, Canada, Europe, India, Malaysia, Mexico, New Zealand, Russia and the United States.