MCC Seeing Growth in Sustainable Ag Program
Published on Wednesday, September 15th, 2021
In January of 2020 Montgomery Community College launched its Sustainable Agriculture program in the new Joseph Reese Blair Career and Technical Education Center, just two months prior to the College moving to fully-online instruction due to COVID-19. As with many programs housed in that facility, student experience was diminished due to the lack of hands-on activities. Today, the CTE Building, as it is known, is open and humming with student activity once again. The Sustainable Agriculture program is enjoying a rebirth of sorts, with new facilities, new activities and even a new instructor.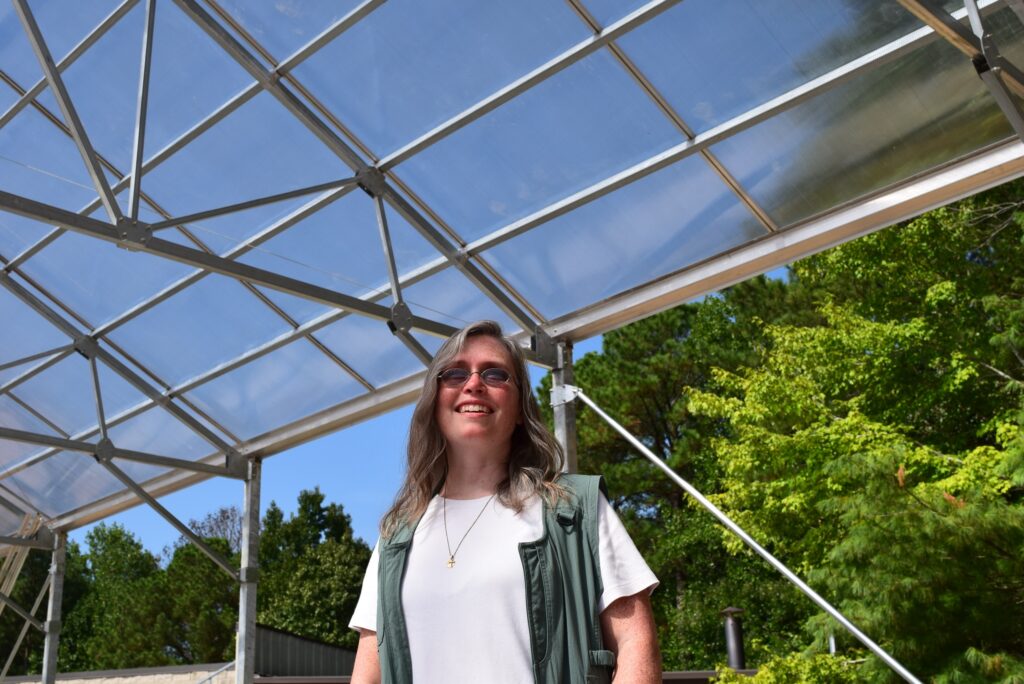 Kim Morris Johnson, a Montgomery County native, is the current instructor for the program. Johnson has a lifelong interest in agriculture, which was cultivated through family connections, experiences as a student in Montgomery County Schools, and her work at a local florist during her high school years. Johnson went on to study at North Carolina State University and The University of North Carolina at Greensboro, and has a wide range of teaching experience over a career of more than twenty seven years. Through employment in several capacities with area public school systems and NCSU Cooperative Extension, Johnson has taught a variety of topics to students of all ages, preschool through adult.
"I am honored to have the opportunity to serve in my home community through the Sustainable Agriculture program at MCC," says Johnson. "Montgomery County is currently and historically rich in agricultural connections, and introducing students to these connections while teaching both technical and employment skills can have far-reaching impacts for families, businesses, and our local and regional communities."
In addition to a spectacular corner classroom and laboratory space on the first floor of the CTE Building, Johnson's students have a complementary outdoor facility at their disposal: new greenhouses. A short walk up the hill towards the Pottery Building reveals two structures: a rigid, clear 30 x 72-foot building with a steel skeleton, and its companion 24 x 72-foot hoop house. The buildings have gravel floors to aid in drainage, in addition to running water and electric power. Both structures will provide controlled environments, harnessing the power of solar energy to warm the plants which students will cultivate and grow.
The MCC Foundation applied for and received $375,000 in funding support from the Golden LEAF Foundation, a nonprofit organization established in 1999 to receive half of North Carolina's funds from the master settlement agreement with cigarette manufacturers. The College used its funds to expand the sustainable agriculture program, providing opportunities for students to obtain an associate degree, diploma, and/or certificate in the field. Students are exposed to aspects of modern farming techniques which can be applied to operations ranging from small personal farms, family farms to small/medium corporate farming efforts.
The funding is also allowing the College to expand its partnership with North Carolina Cooperative Extension by allowing for a demonstration site for extension program offerings, tying industry experts to College programs onsite to better serve the needs of existing farmers as well as introduce the next generation through youth training programs.
This project will serve to expand the partnership between the College and Montgomery County Schools. The College offers dual enrollment in college level career programs, allowing high school students to begin taking college level courses as early as the ninth grade. The program will even build the connection of agriculture training with the career exploration component to Montgomery County middle school students, helping them identify interest and skills at an earlier age.
The sustainable agriculture program will also facilitate engagement with local farmers. There are approximately 25 growers in Montgomery County that use greenhouses for production, and the College is aiming to expose more to this type of growing environment. Local farmers struggle with unforeseen weather conditions and changing environments, which result in temperature swings and inconsistent rainfall. The ability to control environmental conditions will be helpful to many farmers in the area.