MCC Pins this Year's Nursing Classes
Published on Monday, May 16th, 2022
Seventeen students, eight with an Associate Degree in Nursing and nine from the Practical Nursing program received a commemorative pin, a nurse's cap as well as a pottery and candle keepsake to remember their accomplishments.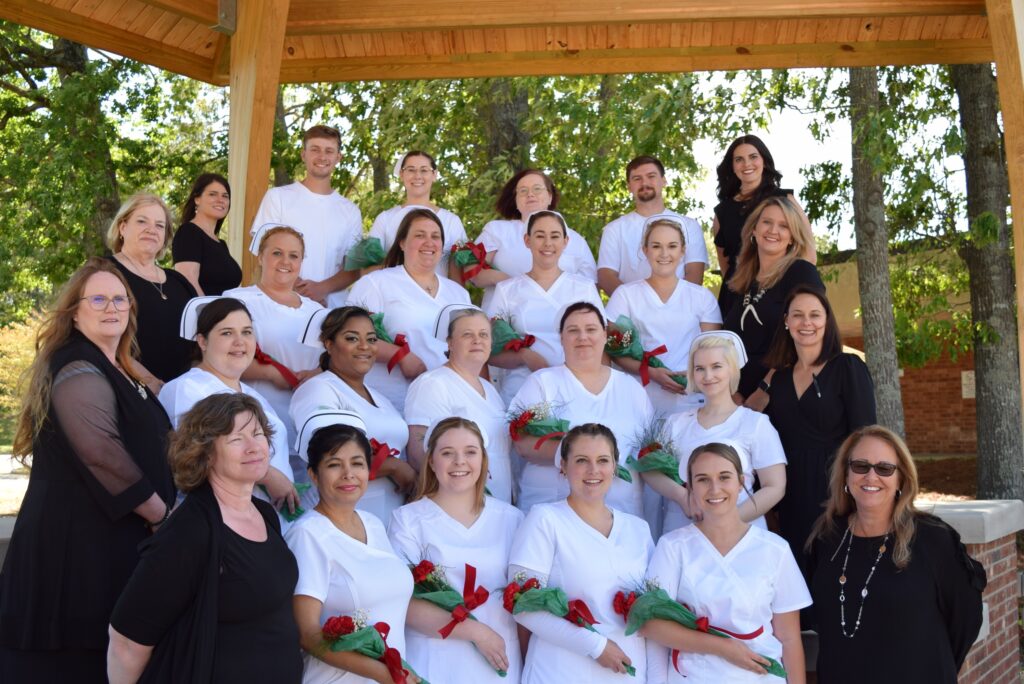 Graduates include Kaylee Allred Barker, Caleb Reece Burris, Brittany Carol Coats, Mason Bryant Coble, Amber Jewell Coffman, De'Shari Renita Griffin, Jennifer Jones Haywood, Cecilia Ericka Horner, Kaylea Cheryl Joines, Zoe Speer Kendall, Cassidy Nicole Messer, Michelle Miller Morgan, Lindsi Staley Morton, Kenzie Alexis Smith, Taylor Grace Stutts, Brittany Kirk Vaughn and Sarah Mesimer Wilkinson.
Marietta Abernathy, Chief Nurse Executive and Lisa Eaves, Director of Nursing, both with Atrium Health Stanly, were on hand to present two student awards during the ceremony.
The Atrium Health Stanly Nursing Service Award, determined by vote of nursing leadership, is presented by the hospital foundation to the graduate who best meets the criteria of scholastic ability, professionalism, interpersonal relationship, teamwork, initiative and caring attitude. ADN graduate Michelle Morgan is the recipient of this year's award
The Atrium Health Stanly Nursing Leadership Award, determined by the vote of the nursing leadership and with approval of the hospital executive, is presented by the hospital administration to the graduate who is most dedicated to caring. PN graduate Sarah Wilkinson received this award.
Montgomery Community College offers a variety of healthcare programs to choose from, featuring associate, certificate and diploma options. Students can choose from nursing, dental assisting, medical office administration, medical assisting, nurse aide, phlebotomy and practical nursing.