MCC Pins This Year's Nursing Classes
Published on Wednesday, May 10th, 2023
Fourteen students, three with an Associate Degree in Nursing and eleven from the Practical Nursing program received a commemorative pin and a nurse's cap to remember their accomplishments.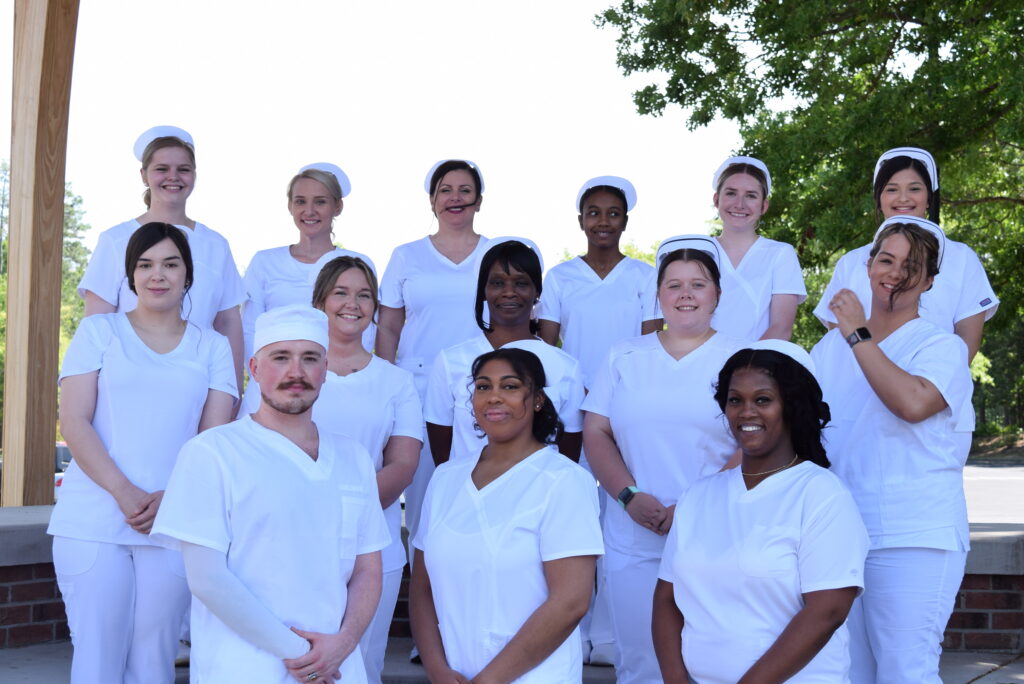 Graduates include Heaven Cagle, Kamisha Clark, Karla Dunn, Aubrey Grace Goldston, Abigail Hurley, Scottia Kelly, Alaina Kimrey, Deanna Leake, Cheyenne Little, Levi McLeod, Mandy Moore, Taurice Nails, Kristie Sims and Hailey Singleton.
Jan Scholl, Nurse Executive and Director of Patient Services at FirstHealth of the Carolinas Montgomery Memorial Hospital, delivered an inspiring address focused on the calling to the nursing field and being at one's best as this year's graduates strive to serve patients during their careers.
Marietta Abernathy, Chief Nurse Executive with Atrium Health Stanly, was on hand to present two student awards during the ceremony.
The Atrium Health Stanly Nursing Service Award, determined by vote of nursing leadership, is presented by the hospital foundation to the graduate who best meets the criteria of scholastic ability, professionalism, interpersonal relationship, teamwork, initiative and caring attitude. ADN graduate Aubrey Grace Goldston is the recipient of this year's award.
The Atrium Health Stanly Nursing Leadership Award, determined by the vote of the nursing leadership and with approval of the hospital executive, is presented by the hospital administration to the graduate who is most dedicated to caring. PN graduate Levi McLeod received this award.
Montgomery Community College offers a variety of programs in the health and human services fields to choose from, featuring associate, certificate and diploma options. Students can choose from nursing, dental assisting, human services, medical office administration, medical assisting, nurse aide, phlebotomy and practical nursing.