MCC Obtains Credentials as EMS Education Institution
Published on Monday, December 20th, 2021
Montgomery Community College has been named a credentialed North Carolina Emergency Medical Services (EMS) Provider Education Institution through April, 2025. The credential affords MCC the legal ability to offer Initial, Continuing Education and Recertification for Emergency Medical Response, Emergency Medical Technician and Advanced Emergency Medical Technician courses along with local Continuing Education for Paramedic courses.
In Spring Semester 2022, MCC will offer four EMS classes: Community Paramedic which is offered online; Basic EMT, Advanced EMT and Emergency Medical Responder feature a hybrid format to include on-campus skills days. All four classes start on January 10th, and cost between $180 and $260.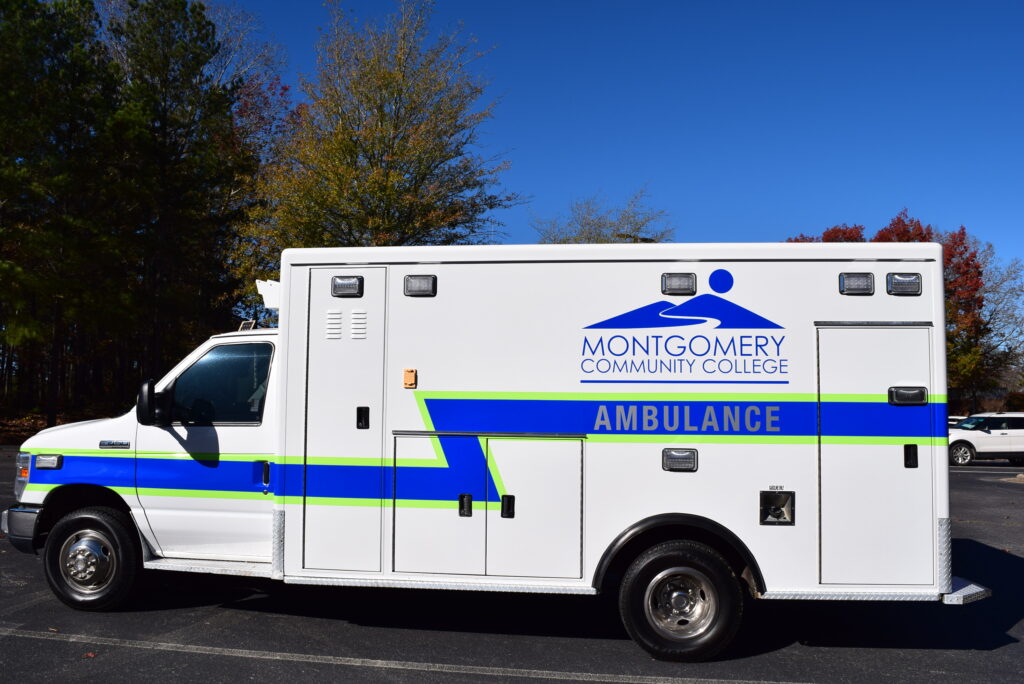 In addition to this recent credentialing, MCC enjoys a rich and long-term relationship with FirstHealth of the Carolinas. Montgomery Hospital (Troy) and Moore Regional Hospital (Pinehurst) serve as clinical sites for the College's EMS programs, with EMS field internship sites in Avery, Montgomery, Moore, Stanly, Union and Wilkes counties.
MCC's Director of Health and Public Safety is Riley Beaman. MCC's two medical advisors are Dr. Matthew Harmody, MD, MBA (president of Sandhills Emergency Physicians) and EMS Program Coordinator Dr. Robyn McArdle, DrPH, MS, Paramedic (telehealth specialist with the North Carolina Office of Rural Health). Eight instructors, including McArdle, deliver MCC's EMS programming. Instructors come from a variety of backgrounds, experience levels, and agencies, and are selected and evaluated based on their commitment to student success within the MCC programs.
The faculty of the EMS Program at MCC seeks to prepare students to participate in the care of individuals of all ages, all types of personalities, different cultural backgrounds and experiencing a variety of illnesses and conditions. Students gain complex knowledge, competency, and experience while serving as a link from the medical emergency scene into the healthcare system. After learning the role and scope of being an EMS provider in the state of North Carolina, students will be prepared to sit for state or national examinations.