MCC Nursing Graduates Celebrate Together, with Distance
Published on Wednesday, May 12th, 2021
Unlike last year's nursing graduates who experienced this rite of passage in their vehicles, the 2021 cohort celebrated in person on May 11, 2021 with a little bit of distance in between.
Fourteen students, four with an Associate Degree in Nursing and 10 from the Practical Nursing program received a commemorative pin, a nurse's camp as well as a pottery keepsake to remember their accomplishments.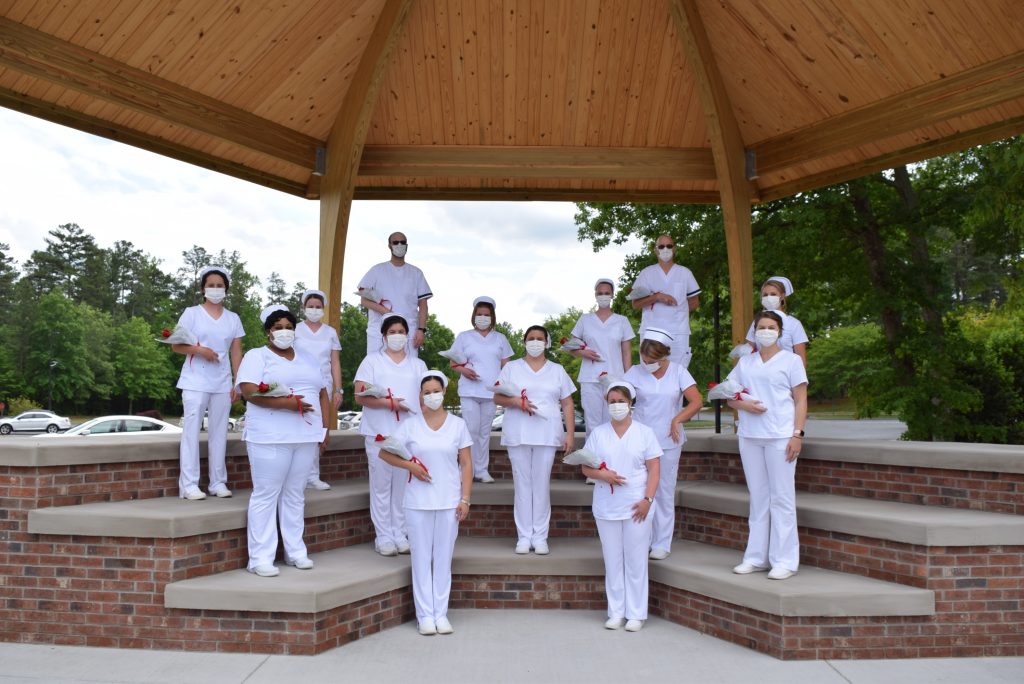 Graduates include Alexis Jovonne Brothers, Madison Lindsay Bullins, Atisha Marie Carrillo, Krystal Debray, Megan Ann Ferguson, Jennifer S. Karshner, John Michael Laton, Joshua Douglas Laton, Anna Catherine Little, Christian McSwain Saunders, Ashley Dawn Shaw, Taylor Wheeler Teague, Christina Marie Webb and Tiffany Nicole Vidrine.
PHOTO CUTLINE: MCC Nursing students enjoy their pinning ceremony featuring social distancing precautions beneath the canopy of MCC's new Amphitheater.
Montgomery Community College offers a variety of healthcare programs to choose from, featuring associate, certificate and diploma options. Students can choose from nursing, dental assisting, medical office administration, medical assisting, nurse aide, phlebotomy and practical nursing.