MCC Launches Boot Camps to Support College and Career Readiness
Published on Friday, November 17th, 2023
The College and Career Readiness (CCR) team at MCC has added another layer of support for students pursuing their High School Equivalency (HSE) diploma: Boot Camps! Each of the half-day sessions covers one of the five topic areas students must master to obtain their HSE diploma: Math, Reading, Science, Social Studies and Writing. At the end of four hours of Boot Camp, students have the opportunity to take the exam- in either English or Spanish.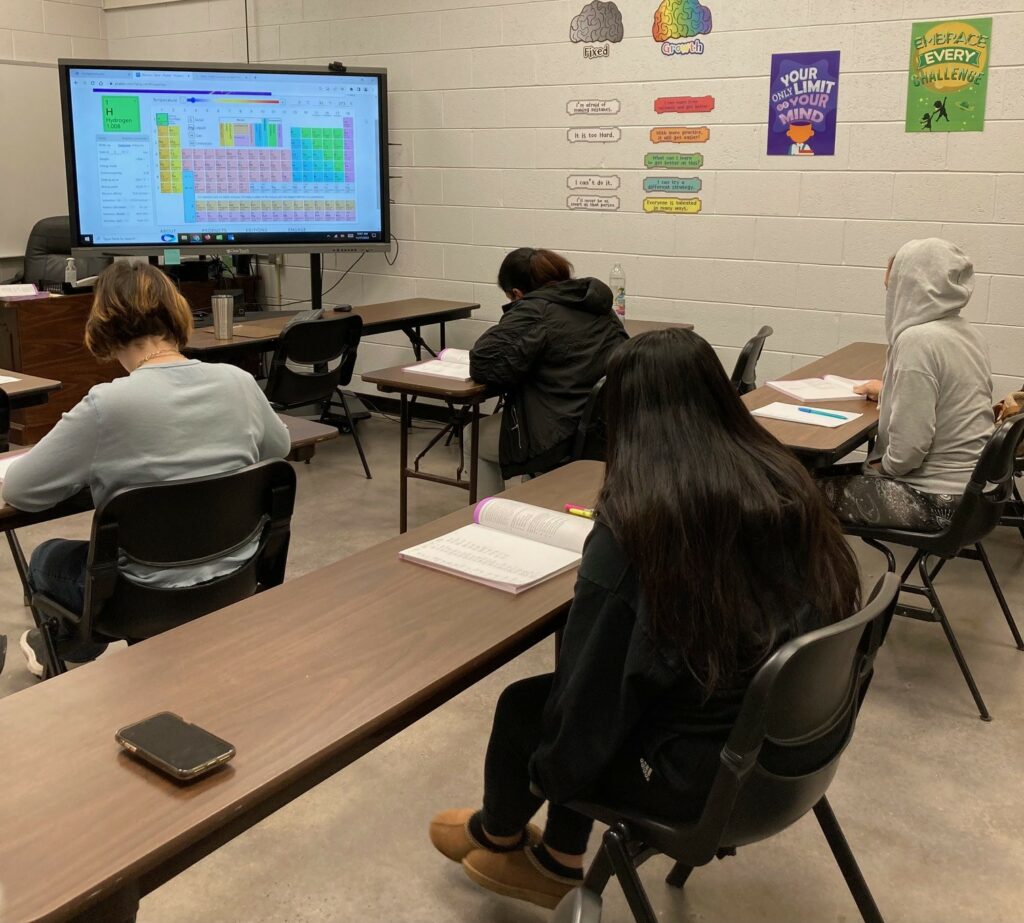 "Our pass rates under our new Boot Camp model are extremely high," explains Deb Sikes, MCC's Director of College and Career Readiness. "Students enroll in our program, work to shore up their mastery of course content over a time period that works for them, and we cap off their experience with the Boot Camp. The final "cram session" gives them the confidence they need to pass the test!"
Prior to Boot Camp, students have been working online and in class, with practice tests along the way, to help them master the material. Boot Camps take place on Friday mornings, with the subject test being offered at 1pm later that day. Thanks to a $975 People Helping People grant from Randolph EMC,
MCC can provide a voucher for 13 students to test for free this year. In addition, the college Foundation Fund is providing vouchers for additional students to test for free.
In addition to the Randolph EMC grant, the CCR program has added an additional resource, staff member Monica Bueno. Monica is from Montgomery County, comes to CCR with a wealth of knowledge from her experience in the program as a part-time instructor and retention specialist. She is fluent in Spanish and has great passion and motivation to help students reach their desired goals. She shares the student experience as she is currently an MCC student herself. "There are many reasons why people don't complete high school, but the good news is, they can always go back and finish that degree, even if considerable time has passed," said Monica. "CCR classes are offered free of charge, and they are designed specifically to prepare adult learners to complete that last step."
CCR classes are available during days and evenings at several locations throughout Montgomery County. Some online classes are available. MCC prides itself on working with student schedules and at their comfort level. All CCR classes are FREE! Students who are interested in exploring next steps for college and career readiness can contact Deb Sikes at 910-898-9680, sikesd7078@montgomery.edu or Monica Bueno at 910-898-9678, gonzelezm4180@montgomery.edu.
"We are committed to providing convenient, high quality learning opportunities for our CCR students, and we understand they are very busy. Our programs are designed to meet students' individual learning needs, and reaching goals often takes less time than students think it will," says Deb.