MCC Foundation Hosts Fifth Annual Shooting Clay Tournament
Published on Friday, November 17th, 2023
Fifteen teams comprised of 60 shooters headed down to Ellerbe on a gorgeous fall morning for the MCC Foundation's fifth annual Shooting Clay Tournament. DeWitt's Outdoor Sports hosted the competition which featured 14 shooting stations with two shooting boxes at each station. The course, over a mile long, winds through wooded areas, fields and duck pond habitats. The annual contest also offers a flurry shoot, where all team members aim at clays released simultaneously from DeWitt's state-of-the-art automated traps.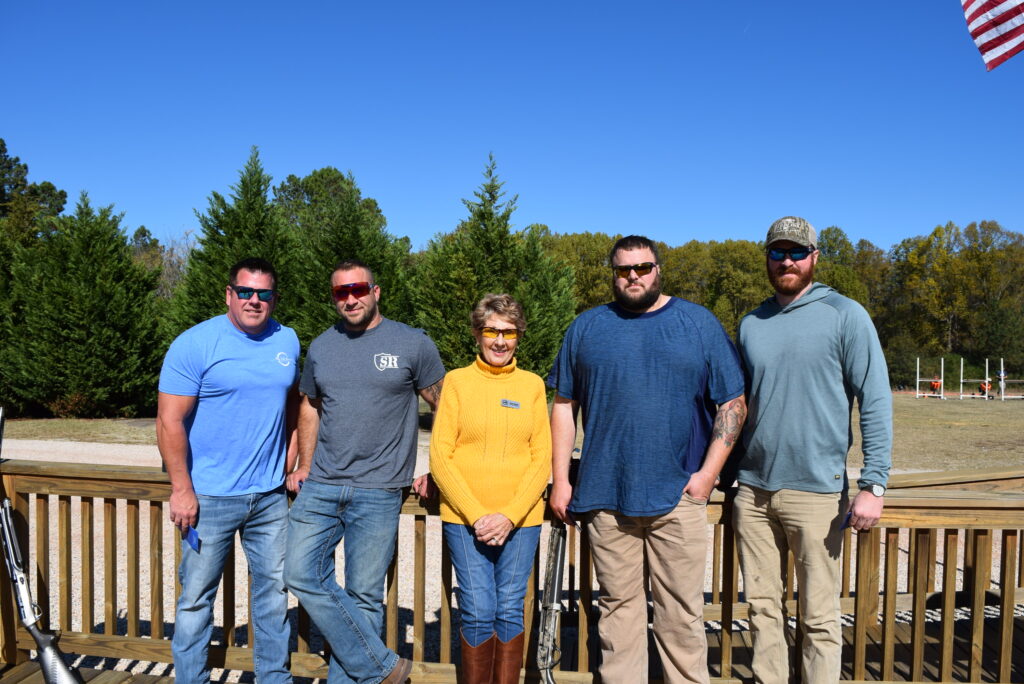 "This event is one of our favorites, and is becoming very popular. We had 15 teams participate this year, our highest count yet," explains Emily Tucker, MCC's Director of Resource Development. "The weather is always spectacular this time of year, and it is so wonderful to reconnect with the companies, friends and employees who support the College."
First place honors belong to the Jordan Lumber team, comprised of Jeff Jordan (a new member to the MCC Foundation Board of Trustees) BJ Hill, Carl Hill and Alan Schaefer. Finishing second were the gentlemen from 5-H Diversified Livestock; Brian Hamilton, Aaron Wooley, Garrett Hamilton and Keenan Jones. The overall best shooter for the day was Aaron Wooley. Winners collected gift card prizes.
In addition to the 60 shooting participants, around 40 of MCC's gunsmithing students and faculty attended as range guides and volunteers.
MCC deeply appreciates the support of its sponsors which make the event and its resulting scholarships possible. Republic Services provided our terrific lunch (Higgins & Son BBQ) with additional financial support from Troy Lumber Company, DR Reynolds Company, Mohawk Industries, Central Lumber & Supply, Benelli, Davidson's, Pride Plumbing, FirstHealth of the Carolinas, Blue Collar Reloading, Sheriff Pete Herron, Warrior Tribe Firearms, McBride Lumber and NASCAR driver Austin Dillon.
The annual event raised a record-high $9,000 with proceeds being split between the MCC Foundation the Gunsmithing Club to support student attendance at the annual SHOT Show in January 2024.
MCC's Gunsmithing Program has dramatically expanded and improved its facilities, equipment, and courses to meet national student demand. These changes have made it possible to train significantly more students and further improve the quality of the training. While there was once a wait list as long as three years, MCC Gunsmithing is now accepting applications for the fall 2024 semester.