MCC Foundation Conveys Two Annual Awards
Published on Wednesday, March 30th, 2022
The MCC Foundation Board awarded its Humanitarian of the Year and Fundraiser of the Year Awards at its March 2022 meeting. Award recipients were on hand to receive personal thank-yous in addition to commemorative pottery gifts crafted by Sydney Williams, director of MCC's Heritage Crafts Program.
The Humanitarian Award is given to the individual or group which most exemplifies a spirit of goodwill and generosity not only to the benefit of Montgomery Community College, but the community at large. This year's recipient is the Allen family, represented by Kerry Hensley, daughter of the late J.F. and Jean Allen, and sister to Fred and Ray Allen.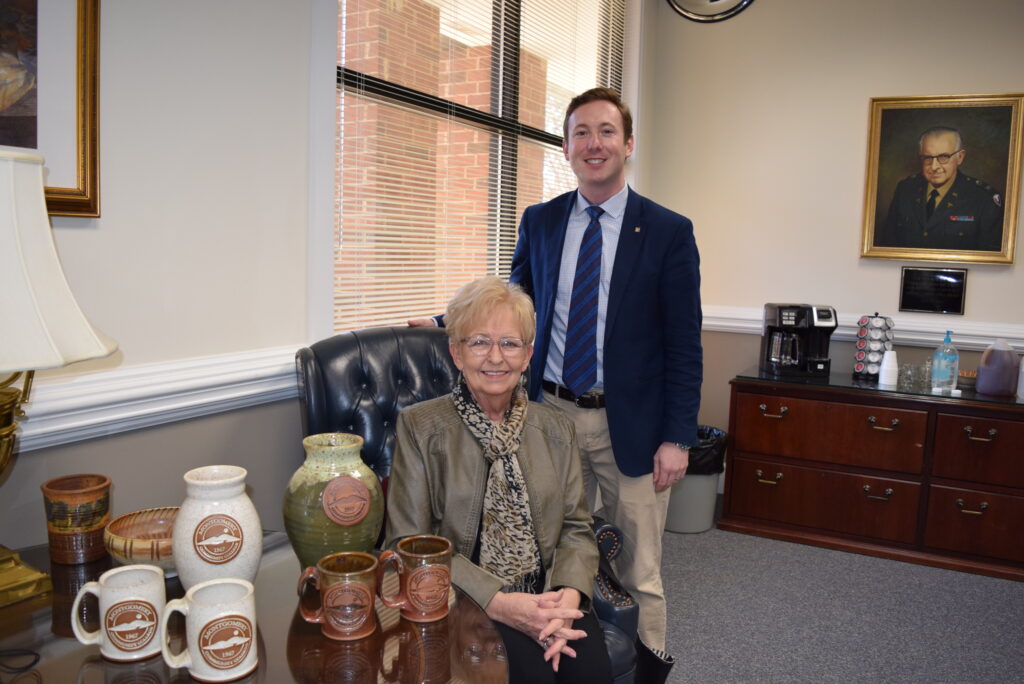 In 2020 the Allen family established an endowment fund in memory of their late parents. In addition to founding Uwharrie Lumber Company, J.F Allen was a board member of the North Carolina Community Foundation, a Montgomery County Commissioner, a North Carolina State Senator, the District 8 Highway Commissioner, a member of the N.C. Ports Authority and former chairman of the board of Montgomery Community College. Fred and Ray Allen continue to operate Uwharrie Lumber Company, and Kerry Hensley was a long-serving board member of FirstHealth Montgomery Memorial Hospital.
The Fundraiser of Year Award is presented to the individual or group who best nurtures and cultivates relationships with the Foundation's current and prospective donors. This year's recipients are Michael and Laura Hayes; Michael is the financial advisor at the Troy office of the Edward Jones investment firm. Michael and Laura established an annual sponsorship which funds the annual scholarships provided to MCC's student ambassadors. Michael and Laura are also generous supporters of the MCC Foundation's annual golf tournament and fall auction/raffle fundraiser.
"It is because of friends like these that our College and our community can flourish," said Korrie Ervin, MCC's Director of Resource Development. "The MCC Foundation is grateful to the Allen family and to Michael and Laura Hayes for their ongoing support of Montgomery County and of Montgomery Community College. They make a difference every day in the lives of countless citizens and the students we are privileged to educate here at MCC."