MCC Foundation Conveys Two Annual Awards
Published on Thursday, February 23rd, 2023
The MCC Foundation Board awarded its Humanitarian of the Year and Fundraiser of the Year Awards at its February 2023 meeting. Award recipients were on hand to receive personal thank-yous in addition to commemorative pottery gifts crafted by John Boalick, director of MCC's Heritage Crafts Program.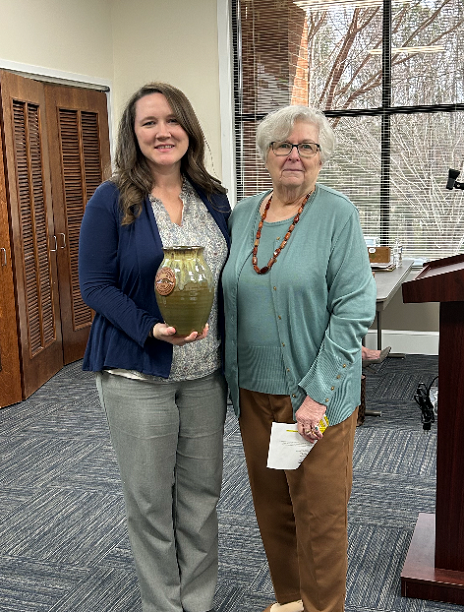 The Humanitarian Award is given to the individual or group which most exemplifies a spirit of goodwill and generosity not only to the benefit of Montgomery Community College, but the community at large. This year's recipients have gone above and beyond as catalysts for growth and enhancement to our small town of Troy. Not only have they been working diligently for our community, but they have also been long time supporters of Montgomery Community College. It is our honor to recognize Win and Elizabeth Dozier with this year's Humanitarian Award. The Doziers developed and funded the Uwharrie Welcome Center and the Town of Troy's Skate Park in addition to many other upgrades.
The Fundraiser of Year Award is presented to the individual or group who best nurtures and cultivates relationships with the Foundation's current and prospective donors. Over the past five years, the Foundation, under the direction of Korrie Ervin, had the most successful fundraisers to date with the highest-ever grossing golf tournament in 2021, and 2022 Fall Fundraiser/Raffle- despite unusual hurricane circumstances! It was also the first time in over a decade that 100% of all employees participated in the College's Annual Fund Drive.
"It is because of friends like these that our College and community can flourish," said Emily Tucker, MCC's Director of Resource Development. "The MCC Foundation is grateful to the Doziers and to Korrie Ervin for their ongoing support of Montgomery County and of Montgomery Community College. They make a difference every day in the lives of countless citizens and the students we are privileged to educate here at MCC."