MCC Forestry Student Receives NCFA Scholarship
Published on Monday, October 16th, 2023
Every year, the North Carolina Forestry Association's Forest Education and Conservation Foundation offers a scholarship to a Montgomery Community College (MCC) Forest Management Technology student. This year's scholarship winner is Andrew Martin (Drew), a second-year student in the program. After receiving an undergraduate degree in history from the University of North Carolina Asheville in his early 20s, Drew returned to school later in life to pursue a career in forestry.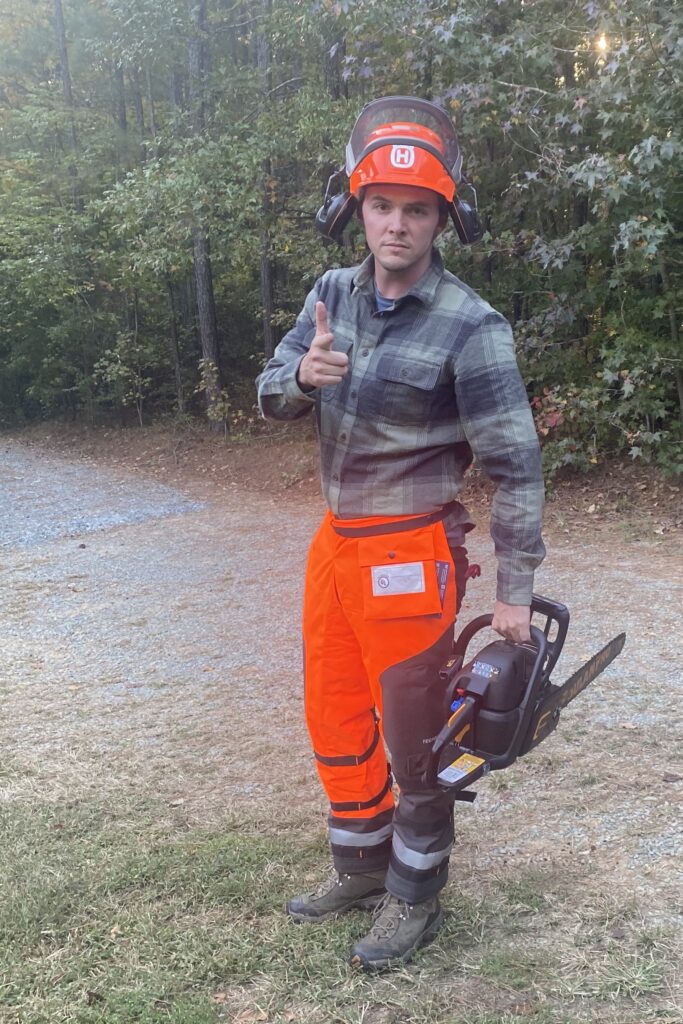 Drew's education has taken him on a rather scenic route. He attended several public universities throughout the state before settling in Asheville, and after graduation had the opportunity to teach English in Spain for a year. Upon returning to North Carolina, he found work at a small publishing company where he was employed until he made the decision to come to Montgomery Community College. When asked about his life and career up to this point, Drew notes "I've been lucky enough to live in a lot of unique parts of the state and the world, and I really enjoy reading and writing, which has really shaped my path."
Drew is originally from Chapel Hill, residing today in the Pittsboro-Siler City area. He spent much of his childhood there, and grew into quite an outdoorsman developing experience in fishing, hunting, and enjoying the outdoors. "My father and I made a few trips to the Uwharrie National Forest when I was younger, so it's been a great experience for me getting more familiar with the area and learning about local land management from the instructors of the program at MCC."
After COVID, with degree in-hand and back in an office environment, Drew decided to explore the more unstructured, outdoor field of forestry. He called Dylan Hurley, MCC's Director of Forest Management Technology. The conversation went well, and Drew is in his second year; he is a member of MCC's Forestry Club and works as a part-time contractor with a land management and forestry support business.
MCC's curriculum is designed to train students in technical forest management skills and help them develop competence in performing various woodland operations on a very broad scale. Of all he has studied so far, Drew's favorite area of study and practice is fire management. "Prescribed burns are really important to the overall success of a forest and have an important historical and cultural context in North Carolina," explains Drew. "Burns can rid a tract of invasive species, clear out unproductive understory species, and remove risky tinder. I like being a part of prescribed burn exercises."
Because of its excellent reputation and ability to attract top-notch students, abundant job opportunities exist for graduates of MCC's Forest Management Technology program. "The instructors in the program at MCC have been great in teaching me a variety of skills that translate directly into the field and have also helped me explore a variety of job opportunities that exist for all of us that graduate from the program." That being said, a master's degree from North Carolina State University is definitely in the mix for Drew. "I'm ready to jump back into the workforce, but I have discovered some areas of forestry I might like to research. We will see how things look after graduation this December."