MCC Forestry Program Takes Home Quiz Bowl Trophy from Cradle Competition
Published on Thursday, January 26th, 2023
If someone said you lived near the Cradle of Forestry, would you know what they were talking about? Nestled in Western North Carolina, below the Blue Ridge Parkway, is the birthplace of forestry in America. A national historic site, the land was purchased by George and Edith Vanderbilt during a major logging boom. Dr. Carl Schenck, a forestry educator from Germany, helped the Vanderbilts with land management and re-forestation efforts that define sustainable forestry to this day. When George died in 1914, Edith sold 87,000 acres to the U.S. Forest Service, creating the Pisgah National Forest we know and love.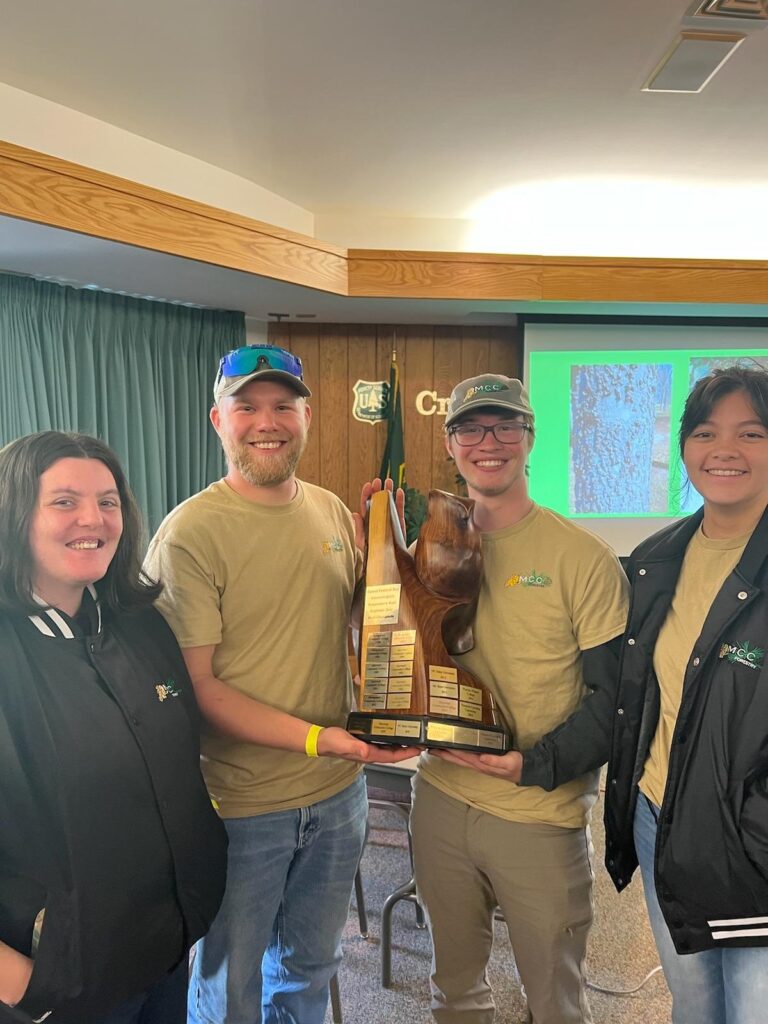 Each year, forestry clubs across the Eastern U.S. meet in Western North Carolina to experience the Cradle of Forestry Festival. While there is plenty of education and celebration, the highlight of the event is the John G. Palmer Intercollegiate Woodsmen's Meet. Students from many colleges and universities compete across 15 events: Quiz Bowl, Dendrology, Archery, Log Roll, Water Boil, Axe Throw (men's and women's), Pole Fall, Orienteering, Pulp Toss, Crosscut (men's and women's), Jack & Jill, Pole Climb (men's and women's), Chainsaw (men's and women's), Bolt Split (men's and women's) and Single Buck (men's and women's).
This year's event was held Saturday, November 12th. Led by faculty members Dylan Hurley and Josh Hussey, MCC's student competitors were Cheryl-Lyn Chandler, Baden Embry, Bailey Parks and Amy Reeves.
Of the 15 events categories, MCC these four forestry club students placed in the top three in five of them! The most notable win for MCC was placing first in the Quiz Bowl competition; the final round was MCC against NC State with MCC winning 110 to 105. This was the first Quiz Bowl win for MCC in almost 19 years, resulting in a hand-carved owl trophy now on display at the Forestry Building! Other notable events in which the club placed were second place in Dendrology/Tree Identification and third place finishes in Orienteering, Pulpwood Toss and Men's Chainsaw.
About MCC's Forest Management Technology Program
The Montgomery Community College campus features 134,400 square feet of facilities on 153 acres of land nestled in the hills of the scenic Uwharrie National Forest. As working caretakers of the forested campus, forestry students maintain three nature walking trails ranging from .3 to 2.0 miles in length and a 100-acre Forestry lab. This is simply the best place to learn and practice forest management in a hands-on environment. MCC's renowned associate degree program was started in 1994, having graduated hundreds of industry professionals who work all over the country.