MCC Forestry Program Gears Up for Growth
Published on Wednesday, August 4th, 2021
The Forestry Management Technology program at Montgomery Community College is expanding capacity with new facilities and capabilities. Just north of the forestry building on the west side of the MCC Campus sits a brand new equipment storage facility. The ten-bay, open-air shed measures a whopping 30 feet deep and 170 feet in length, secured by a well-lit gate and fence with security cameras and alarm. The facility is home to the College's fire truck, tank sprayer, bulldozer, tractor, four-wheelers and other large equipment used in the day-to-day maintenance of the wooded campus.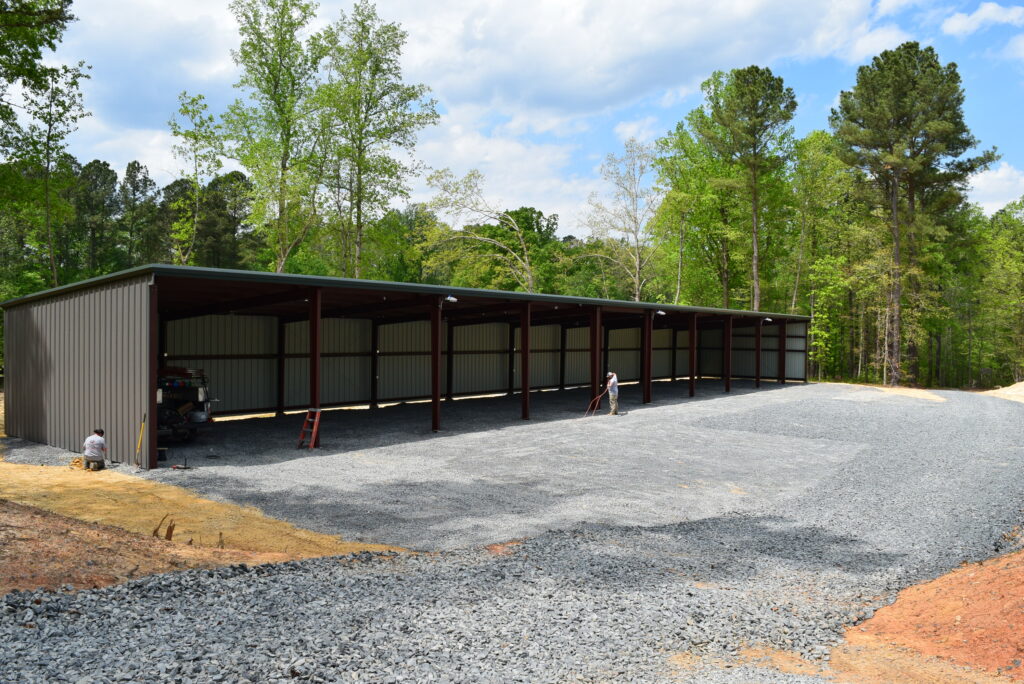 The MCC Forestry Program staff and students are responsible for the maintenance of all wooded areas of campus, totaling 153 acres nestled in the hills of the Uwharrie Forest. Program participants sustain walking trails and woods roads, totaling just over three miles in length, as well as exposing students to myriad projects nearby to help them sharpen their skillset. Last year the forestry students harvested 2,190 board feet of pine sawtimber, mapped 284 miles of roads, fire lanes and property lines and inventoried 2,478 acres of local forestland.
In 1994, under department chair Russell Strong, MCC's Forestry Program transitioned to a two-year Associate's Degree program. Strong, who remains an adjunct instructor to this day, served in his role as department chair until his retirement in in 2019. Registered foresters Josh Hussey and Dylan Hurley operate the program today, the latter serving as chair of the department and a board member of the North Carolina Forestry Association. Fifteen forestry professionals from across the Southeastern U.S. serve as members of the program's advisory committee.
Forestry, and its related timber industry, have been growing by leaps and bounds in North Carolina. The state ranks fourth in total forested acreage, with 57% of the state comprised of forestland. North Carolina's natural resources make this location the perfect place to study Forest Management Technology. "Trees are a renewable resource, and when properly managed, they can be used for various benefits without deteriorating the supply," explains Department Chair Dylan Hurley. "It's the forests left unmanaged that become susceptible to insects, disease, deterioration and catastrophic wildfires."
MCC's Forestry Management Technology Program is extremely popular, with only three community college programs in the state. Students complete the program in two years with the option of entering the workforce immediately or transferring to a four-year program at a university. Hurley says most of his students have employment opportunities right out of school, in addition to summer employment during their time at MCC.
Students in the two-year program study land and tree measurement, tree identification, ecological communities, timber harvesting, sales and purchasing, reforestation, forest firefighting, natural resource management, forest insects and diseases in addition to new disciplines in GIS and GPS technology.