MCC Cuts Ribbon at Greenhouse Site
Published on Monday, October 24th, 2022
MCC recently celebrated the establishment of a new greenhouse complex with a ribbon cutting ceremony. College trustees, students, faculty and community members were on hand to commemorate the completion of the two-year project. The complex includes an environmentally-controlled A-frame greenhouse along with a ventilated cold-frame structure, housing several hydroponic systems, including a 650-gallon aquaponics demonstration unit.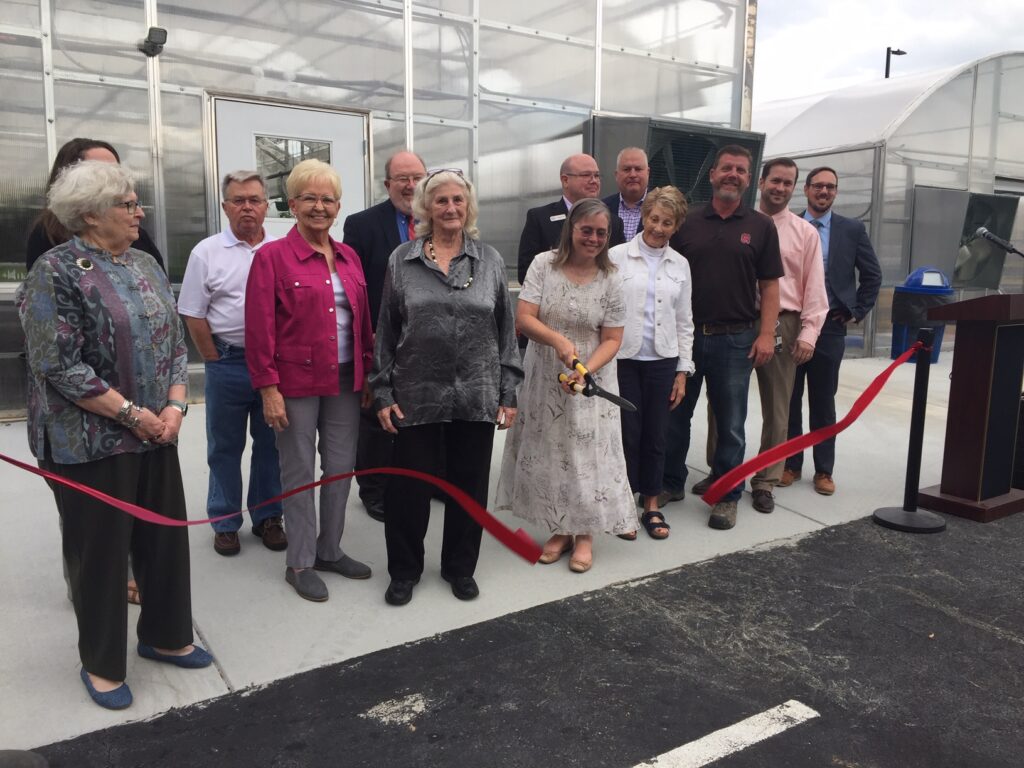 In 2020, MCC received $375,000 in funding support from the Golden LEAF Foundation, a nonprofit organization established in 1999 to receive half of North Carolina's funds from the master settlement agreement with cigarette manufacturers. The funds are part of the foundation's Community-Based Grants Initiative, targeting investments in the building blocks of economic growth: agriculture, economic development, education, infrastructure, workforce development and health care.     
The funding allowed MCC to expand its sustainable agriculture program, which provides opportunities for students to obtain an associate degree, diploma and certificates in the field. Students are exposed to aspects of modern farming techniques that can be applied to operations ranging from small personal farms, family farms to small/medium corporate farming efforts.
"We are grateful to the Golden LEAF Foundation for its support of our sustainable agriculture programming," said Dr. Chad Bledsoe, president of Montgomery Community College. "Their investment has changed the landscape of our curriculum offerings, and the landscape of our campus as well!" The polycarbonate greenhouse and companion hoop-house are located at the north side of MCC's campus.
Having the two structures with different features will allow MCC students to learn about appropriate crops, practices, and climate controls. The structures will also host continuing education for Montgomery County residents, expanding current program offerings such as Beekeeping and Agricultural Business. MCC also hopes to expand its partnership with North Carolina Cooperative Extension as a demonstration site and resource for the community as a whole.
MCC offers dual enrollment in college level career programs, allowing Montgomery Central High School and Montgomery County Early College students to begin taking college level sustainable agriculture courses. The program will also partner with Montgomery County Schools agricultural education programs at both the middle and high school levels, providing expanded opportunities for advanced agricultural training in Montgomery County.