MCC Celebrates Manufacturing Day
Published on Tuesday, November 16th, 2021
After a year off due to COVID, MCC was thrilled to welcome area companies back to campus to celebrate Manufacturing Day 2021. Six businesses and two providers were on hand to meet with hundreds of MCHS and MCC students to promote the exciting careers awaiting them right here in Montgomery County.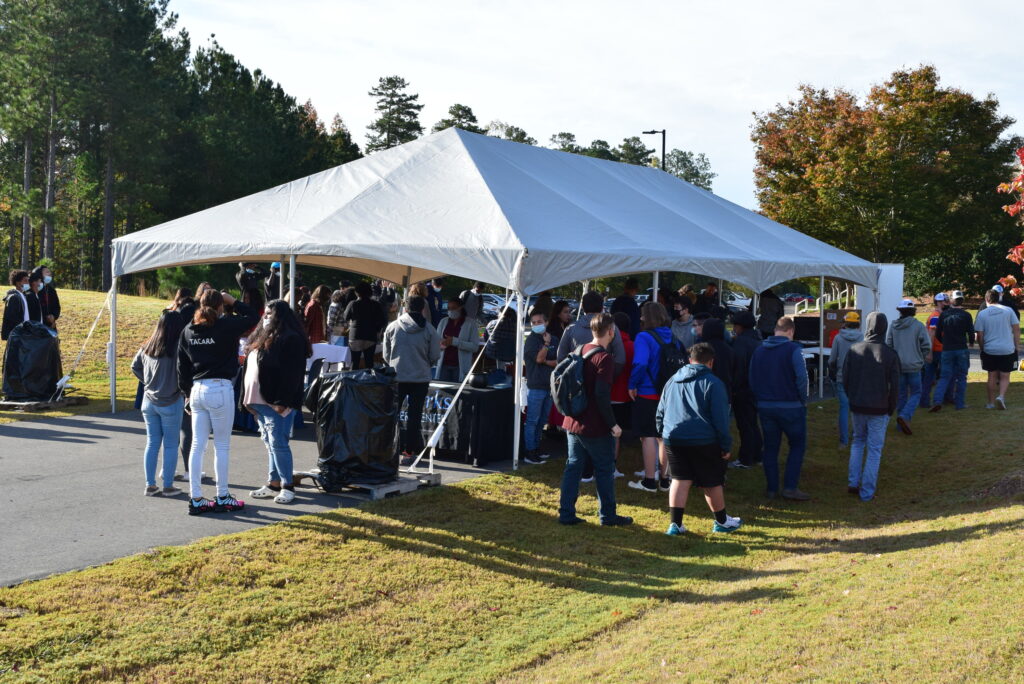 Autumn Care of Biscoe, Carolina Aseptic, Jordan Lumber Company, McRae Industries, Mohawk Industries and Troy Lumber Company joined Apprenticeship Montgomery and NCWorks set up booths beneath a large white tent, meeting students MCHS juniors and seniors throughout the day on October 28th. Discussions focused on open positions, employee benefits, company culture, generous pay, flexible schedules and career growth. Freshmen and sophomores toured the CTE facility, meeting with faculty about the career and technical paths available to them: Air Conditioning & Heating, Automotive Systems Technology, Culinary Arts, Facility Maintenance Technology, Electrical Systems Technology, Computer Aided Machining, Mechatronics, Sustainable Agriculture and Welding
"Montgomery County is hiring!" said Jessica Hamilton, coordinator of the day's event and Director of Business & Industry Services for MCC's Department of Continuing Education. "All companies in attendance have exciting positions open with great pay and benefits. Most of these companies grew during the pandemic and are charting a course to grow their workforce to support continued expansion."
Held annually in October, Manufacturing Day helps showcase modern manufacturing careers by encouraging thousands of companies and educational institutions around the nation to open their doors to students, parents, teachers and community leaders. As manufacturers seek to fill four million high-skill, high-tech and high-paying jobs over the next decade, the annual event brings manufacturers together to address collective challenges so they can help their communities and future generations thrive.
Like many markets, Montgomery County is struggling to find workers to fill new positions and those vacated during the pandemic. Events like this one and upcoming MCC job fairs and career days are designed to get employees off the sidelines and back into the workforce.