MCC Celebrates BLET Graduates
Published on Tuesday, May 9th, 2023
Ten Basic Law Enforcement Training students celebrated their graduation from MCC's BLET program on the evening of May 8, 2023. Madison Nicole Atkins, Lena Joann Buchanan, Brandon Storm Cox, Shenea Olivia Dumas, Austin James Forro, Brandie Carole Jenett Hutchison, Patrick Tyler Mabe, Gregory Harvey Morris, Christian Marie Soles and Alison May Sweet received their certificates of completion with family members, friends, college administration and trustees in attendance.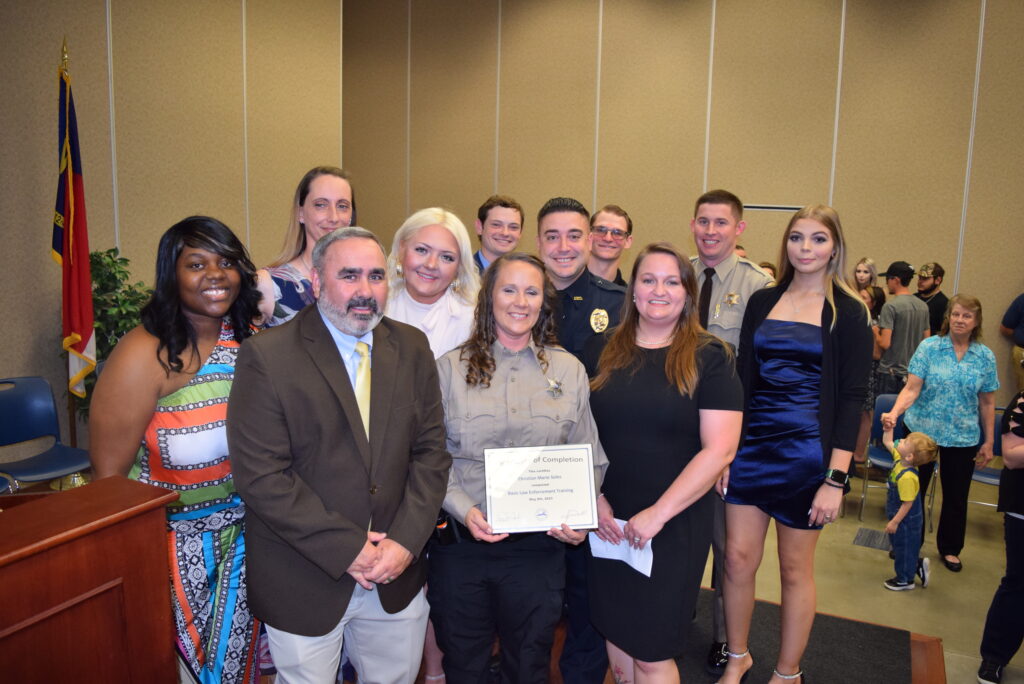 BLET Program Director Jeff Dorsett, in his first year in the role with the College, welcomed sponsoring agencies, law enforcement guests, instructors, volunteers and alumni of the program dating back to 1977. "This year's class is exceptional," said Dorsett. "Their test scores and performance are among the highest we have ever seen, and we are very proud of their accomplishments."
In addition to completion certificates, three special awards were given. Dean of Career & Technical Education, Tracey Wyrick, presented the Top Fitness Award to student Brandon Cox. Cox achieved the highest overall fitness assessment score combined with the fastest time in the Police Officers Physical Abilities Test.
Vice President of Instruction & Student Services, Lee Proctor, presented the Top Firearms Award to student Austin Forro. Forro attained the highest qualification score in both day, night and combat conditions combined, with a score of 95.9 percent.
College President Dr. Chad Bledsoe presented the Top Academic Award to student Brandie Hutchinson. Starting last September and ending with the State BLET exam administered on April 21, 2023, students completed seven months of rigorous training, completing 36 topics of instruction during 705 hours of instruction. Hutchinson earned the highest academic average of test scores combined with his State BLET exam score, with an overall average of 93.3.
In addition to the special award presentations, students and guests were treated to a lively and impactful speech given by previous BLET Director and Sheriff of Montgomery County, Pete Herron.
MCC has found an impressive niche for its BLET programming with courses running during the evenings and weekends, giving students the opportunity to maintain ongoing daytime income while exploring a new law enforcement career at night. While a minimum of 660 hours of classroom is required, this cohort finished with 705 because of MCC's access to uniquely-qualified experts and instructors.
MCC's BLET program occupies a new facility with multimedia classrooms and a physical training center. There is also an on-site firing range and obstacle course for firearms and physical training. Job opportunities for successful graduates include police officer, deputy sheriff, company police officer, campus police officer and state law enforcement officer. If you are interested in a career in law enforcement, contact Program Director Jeff Dorsett at dorsettj1175@montgomery.edu.