Drawn to the Outdoors
Published on Monday, October 24th, 2022
Montgomery Community College student Cheryl-Lyn Chandler became interested in the environment as a middle-schooler. Her mother got her involved in a North Carolina Envirothon competition, which is organized around five categories: soils and land use, aquatic ecology, forestry, wildlife and current environmental issues. Cheryl-Lyn succeeded in the competition, and the experience laid the groundwork for what would become a burgeoning interest in forestry.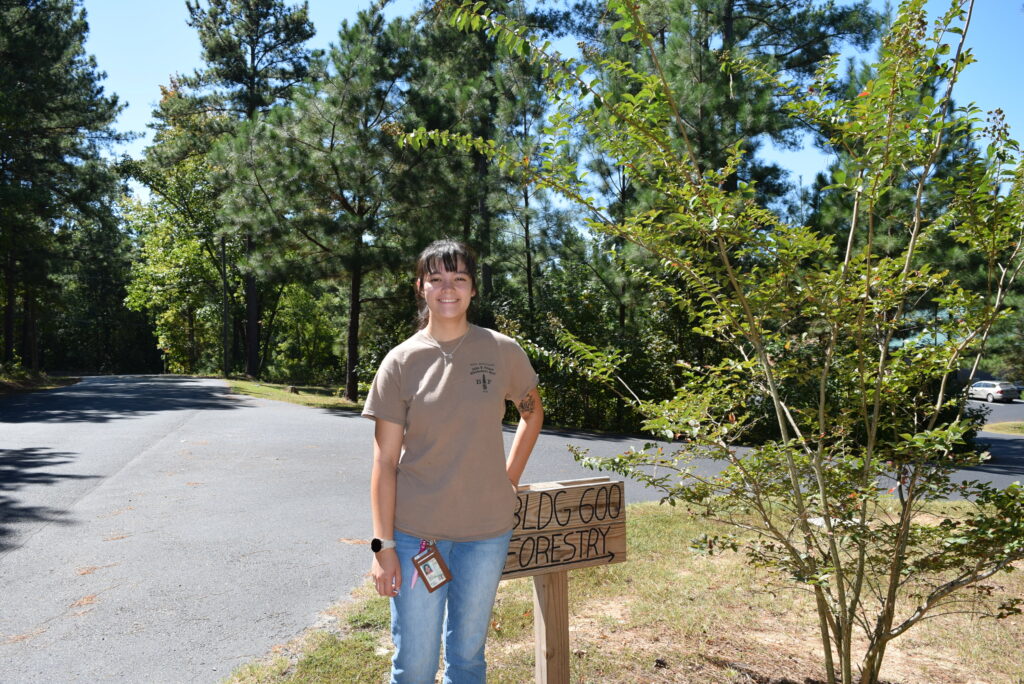 Cheryl-Lyn hails from a military family, most of which is still residing in Cherry Point, North Carolina. Her parents raised three children in a Christian household. "I had a strong, faith-filled foundation," explains Cheryl-Lyn. "Our parents raised us to be strong and self-sufficient, but also people of service to others.
In Cheryl-Lyn's words, she didn't really like public school very much. For this reason, her mother opted to homeschool her from seventh grade and beyond, which was a very successful endeavor. Cheryl-Lyn's learning style was less about textbooks and more geared towards hands-on learning with a lot of activities. "I loved science, being outside and doing things with my hands, and my parents supported my interests wholeheartedly."
As Cheryl-Lyn approached high school graduation, she was strongly considering following in her father's footsteps in the United States Marine Corps. I explored how I might pursue a career in the military, until my mom told me about a forestry program just a few hours away."
Knowing her daughter loved science, Mrs. Chandler had been researching science-related programs at community colleges, thinking such a path would be an affordable way to explore a career and education at the same time. There are a few forestry programs in North Carolina, and the one here at Montgomery Community College was fairly close, and hosting an open house for prospective students.
"All I can say is, it was meant to be. We had car trouble on the way up. When we finally got here most of the other students had already left the campus, but the forestry table was still set up, and the staff was still here. We practically had a private tour!" Cheryl-Lyn is starting her second and final year in MCC's Forest Management Technology program.
"I picked forestry because I find it scientifically challenging, but also because it's consistent with my values. To me, forestry is about stewardship and service to people and the land." Cheryl-Lyn is the recipient of this year's North Carolina Forestry Association Scholarship. She has also had a valuable employment experience with Jordan Lumber & Supply, Incorporated. She is exploring opportunities within the United States Forest Service, but ultimately plans to complete a four-year Forestry & Environmental Resources degree at North Carolina State University.
"I have been able to take so many of my general education requirements here at MCC. Combine that with a good foundation in forestry classes, and I expect I will be half way there before I step foot on campus in Raleigh."
Attending a community college has allowed Cheryl-Lyn to confirm her interest in forestry, and to develop confidence in her ability to succeed at college-level work. "This has been a great experience. I picked the right field, I can absolutely handle the academics, and up to this point I have no college debt at all."