Curious Problem Solvers Meet THE CAR
Published on Wednesday, October 6th, 2021
Quint Dunlap is still teaching, however he is now heading up Automotive Systems Technology at Montgomery Community College. After lengthy stints at both the middle school and high school levels in Montgomery County, Mr. Dunlap is reconnecting with many of his former students at the new Joseph Reese Blair Career and Technical Education Center.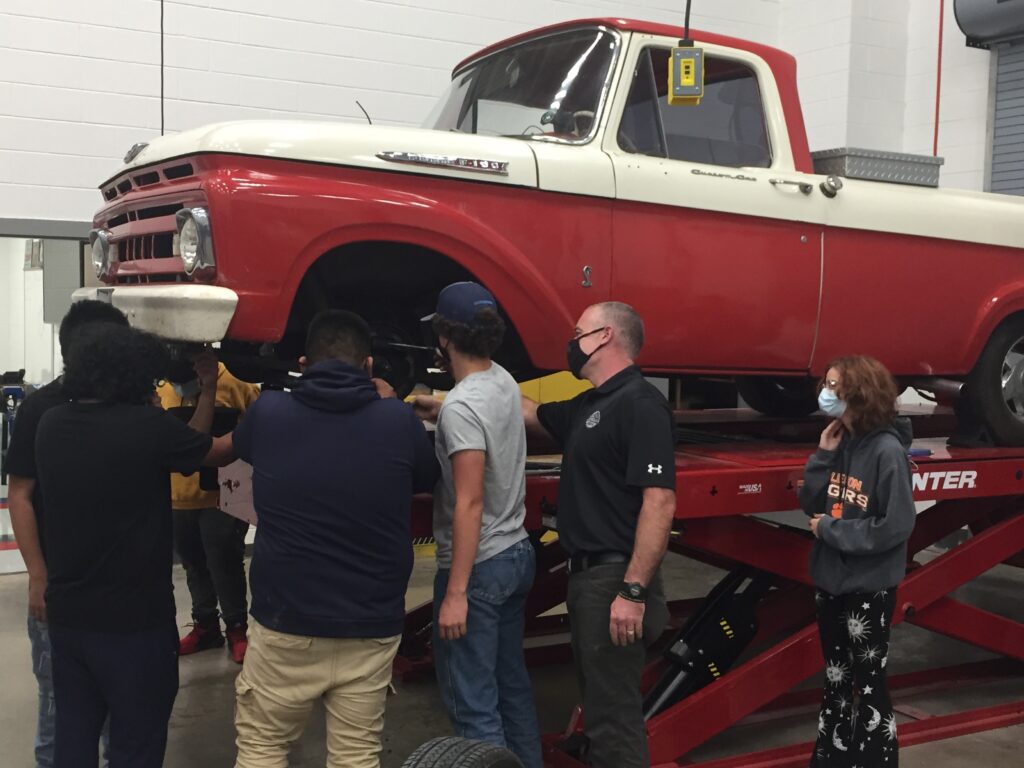 "I'm seeing a lot of familiar faces, and when I get that class list with names at the beginning of the semester, I know I am teaching some of these students a second time, now at the college level," says Dunlap. "It's been more fun for everybody this time around, because I am a better teacher now, and of course they are more mature students as well. We are hitting the road together in college!"
The Automotive Systems Technology program is challenging, but incredibly useful. Dunlap's classes help students develop the skills to repair, service, and maintain all types of automobiles. The curriculum includes instruction in brake systems, electrical systems, engine performance, engine repair, suspension and steering, automatic and manual transmissions and drive trains and even heating and air conditioning systems.
"The great thing about teaching automotive classes is that there really is value for everyone. Some of my students will go on to rewarding careers as automotive technicians, but many just want to change their own oil. Either way, these classes prepare students to understand automobiles, which in turn makes them better mechanically but also better consumers generally. If you know what is going on with your car, you are half way there to fixing it."
The people who do well in automotive classes (Dunlap has men and women in all his sections) are curious, they aren't afraid of breaking things (or broken things) and they are problem solvers. Many of his students have been breaking (and fixing) things at home since childhood. Success with small engines like chain saws and lawnmowers has bred young adults with aptitude for repair.
Mr. Dunlap's classes are full, and one of the reasons for this is the students are working on real cars and trucks. Faculty, staff and even Mr. Dunlap himself offer up vehicles for repair, giving students serious projects as "customers" need to drive these cars safely home after repair.
Mr. Dunlap is among a group of MCC faculty who are reinvigorating the SkillsUSA partnership at the College. SkillsUSA is a career and technical student organization serving more than 395,000 high school, college and middle school students and professional members enrolled in training programs in trade, technical and skilled service occupations. The organization sponsors competitive events around the country each spring, and Mr. Dunlap looks forward to taking MCC teams to compete in Greensboro in the area of automotive maintenance.