Carolina ALL OUT: A Natural Partner
Published on Friday, July 29th, 2022
All organizations rely on their employees to deliver excellent products and service to their intended audience, and Montgomery Community College is no different. Our faculty and staff do a marvelous job attracting, educating and assisting students, but we don't do it alone; there is an extensive supporting cast of partners who provide resources, reach and rhythm to campus life. Carolina ALL OUT is one of those partners, and we'd like to tell you a little bit about them.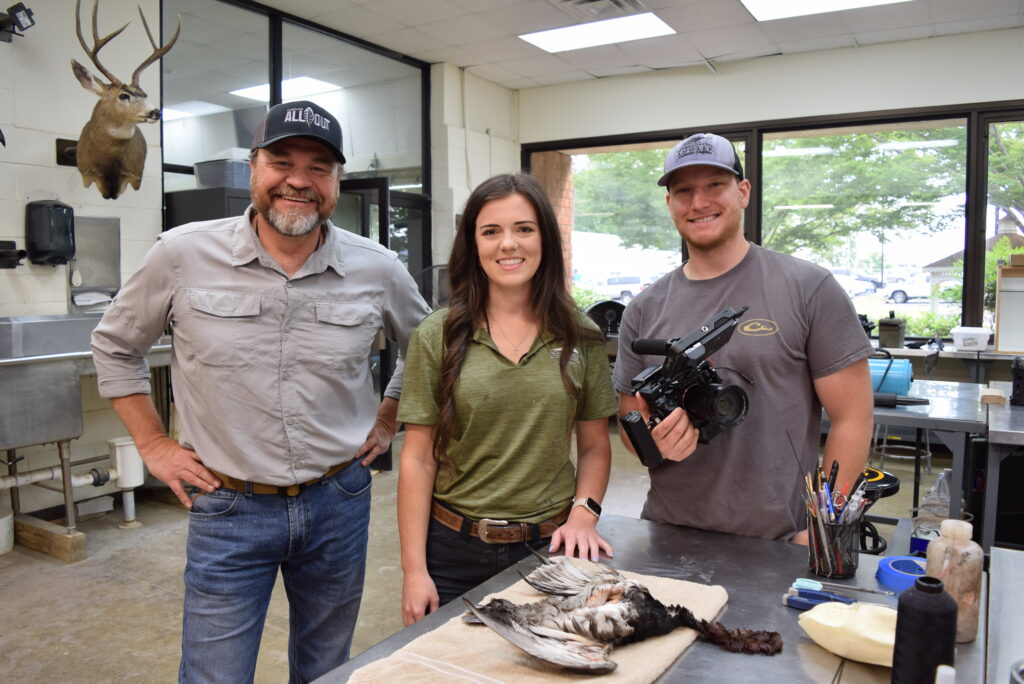 Owner/Host Chris Douglas has been visiting our campus for a few years now, filming content for his television series Carolina ALL OUT. If it involves hunting and fishing in North Carolina, Chris has done it: falconry hunts, bear hunts, flounder gigging, bull red drum fishing, swan hunting, lake crappie fishing, and just about everything in between. In addition to these action-packed hunting and fishing episodes, Douglas films additional segments of interest, which MCC is pleased to deliver: projects involving gunsmithing and taxidermy.
Douglas has two MCC taxidermy productions under his belt (deer and turkey) and two gun builds done with the MCC gunsmithing program. He and taxidermy instructor Jordan McDuffie are completing a redhead duck mount for an additional taxidermy episode which will air later this year. While Carolina ALL OUT is exclusively about North Carolina's natural resources, it can be seen in Maryland, South Carolina, Virginia and West Virginia in addition to our fair state.
Carolina ALL OUT's television exposure has brought general awareness to Montgomery Community College, in addition to helping us attract several new students over the years. People see the television programming and the companion presence on social media (The Carolina ALL OUT Channel on YouTube, www.carolinaallout.com Facebook- @carolinaallout and Instagram- carolinaallout) and they decide to learn more about MCC and what we have to offer.
"This has been a fantastic partnership for us! Montgomery Community College fosters programs that our viewers find interesting," said Douglas. "The shows we do here are by far our most popular on Youtube and we continue to get comments from all over the world about the skills of the instructors and their knowledge of the craft. We love making the drive to Troy, NC to show the world what is being done right here in this little college on the edge of the Uwharrie National Forest!"
Sincere thanks to Chris and his team, for helping us share the terrific accomplishments of MCC students and faculty!