Campers to Crime Solvers
Published on Thursday, October 12th, 2023
This past summer, area youth enjoyed a three-day immersion experience focused on criminal justice. Montgomery Community College's "Mystery on the LEGEND Express" summer camp was presented in partnership with Montgomery County Schools and the Montgomery County Sheriff's Office.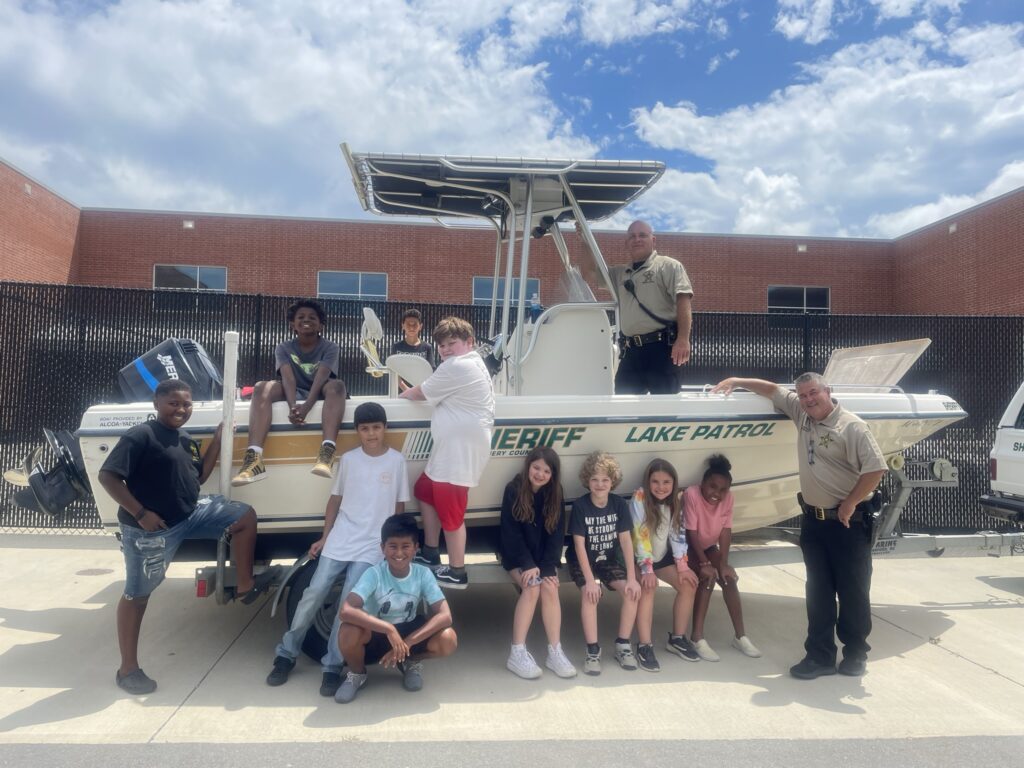 The first day began with a visit to Montgomery County's 911 Communication Center. The group also received a full-blown tour of the Montgomery County court house, which included time observing superior court and civil court proceedings. Judges, clerks and attorneys told campers about their careers, how they became interested in public service and answered student questions. Day one wrapped up with a trip to the Montgomery County Sheriff's Office where they engaged in fingerprint activities and learned about the science behind speed-measuring radar.
On day two, the Montgomery County Rescue Squad brought Rescue One (a large service body truck with tons of gear) for campers to explore. Campers practiced carrying each other on pack out stretchers, tried on safety harnesses and learned about the services provided by rescue squads such as vehicle extrication, wilderness land search and rescue, water search/rescue, high angle rescue and agricultural rescue. Later on, the Montgomery County Sheriff's Office brought their lake patrol boat and Officer McIntyre educated campers about water safety. The Stanly County Drone Program provided a "live man hunt" for sibling campers on the other side of campus enjoying photograph camp! Sheriff Pete Herron and wife Nancy treated campers to a pizza lunch. Sheriff Herron answered camper questions, passed out frisbees and spoke about the importance of safety in our communities.
Day three represented a full circle of technology as campers watched the live video stream of photography campers taking pictures of the hovering drone. During the NC BioNetwork mystery, campers used ink testing to see whose pen wrote a ransom note: Baby Yoda, Belle, Scooby Doo or the Cookie Monster. Campers extracted their own DNA from saliva, encapsulated it, decorated it with beads and turned it into a necklace. The Sheriff's Office had the grand finale with a detective leading several activities revolving around a criminal investigation, like lifting fingerprints and casting plaster molds of shoe prints.
A partnership between Montgomery County Schools and MCC allowed the opportunity to offer ten summer camps completely free to students ranging from fourth to eight grades. Over 100 camp seats were filled with 45 unduplicated students! MCC's summer programs focus on engaging and impactful opportunities for youth that promote career and technical education. State and community partners such as the NC BioNetwork, the North Carolina Wildlife Resources Commission, the Montgomery County Sheriff's Department and Communities in Schools have provided programing for this initiative and helped make it a great success.