Called to Care
Published on Tuesday, May 31st, 2022
Brittany Vaughn and Michelle Morgan took very different paths on their journeys to become nurses, but fate brought them together at Montgomery Community College. Despite being in different age groups, from different parts of the country, having different educational backgrounds and unique motivating factors, both ladies are recent graduates of MCC's Associate Degree in Nursing Program.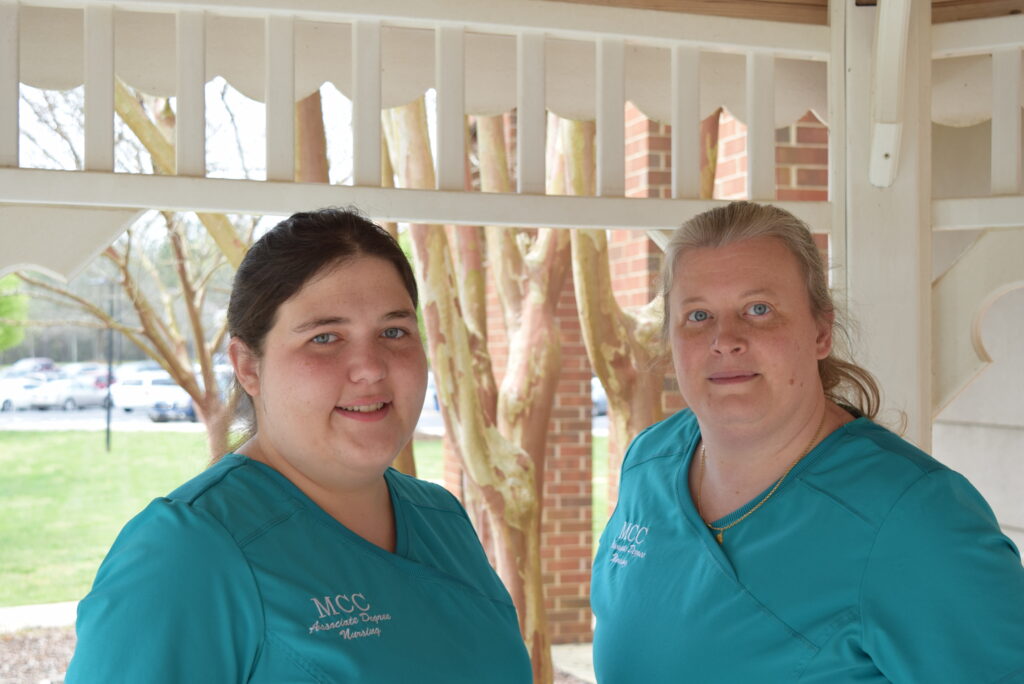 "I never saw myself in any field other than healthcare," explains Brittany Vaughn. "As a small girl I pictured myself in this career, and here I am." Vaughn is from Candor, and completed her Licensed Practical Nursing training at MCC a few years ago. She returned for the ADN degree because it moves her farther along in her goal to complete her Bachelor of Science in nursing degree. She is employed at FirstHealth Moore Regional Hospital in Pinehurst, and loves working there. She currently serves in a medical surgery capacity, and credits MCC with her ability to find early job success. "MCC has small class sizes and very supportive faculty. They saw my potential and worked with me to build my confidence and expertise."
Michelle Morgan is originally from West Virginia, but lives in High Falls today. Armed with a bachelor's degree in Computer Information Systems from High Point University, Morgan had a change of focus some years ago when a family member had a cancer scare and subsequent kidney transplant. "In that caregiving experience, I realized my mind for detail and process really translated well in a medical situation." She too is employed at FirstHealth Moore Regional Hospital in Pinehurst, and is interested in the orthopedics field. "The MCC nursing faculty are very approachable and kind. Every day they show you what a successful nurse looks like."
In addition to earning her LPN and ADN degrees from MCC, Morgan was the recipient of this year's Atrium Health Stanly Nursing Service Award, which is presented by the hospital foundation to the graduate who best meets the criteria of scholastic ability, professionalism, interpersonal relationship, teamwork, initiative and caring attitude.
Montgomery Community College offers a variety of healthcare programs to choose from, featuring associate, certificate and diploma options. Students can choose from nursing, dental assisting, medical office administration, medical assisting, nurse aide, phlebotomy and practical nursing.