Brave, Simple Choices Build a New Foundation
Published on Thursday, October 29th, 2020
In 2008, Shannon Thompson and her husband found themselves in a very difficult situation. The economic recession had backed the couple and their three children into a corner, and the Albemarle residents were facing bankruptcy and the loss of their home. Thompson reflects back on their former life, and remembers long stretches of money mismanagement and resulting debt. "In the end, our poor decisions left us no options. We lost almost everything," says Thompson. "And what we didn't lose, we sold." With drastically-reduced work hours, and no way to make ends meet, the Thompsons sold everything they could, generating enough cash to purchase four acres of land in Montgomery County.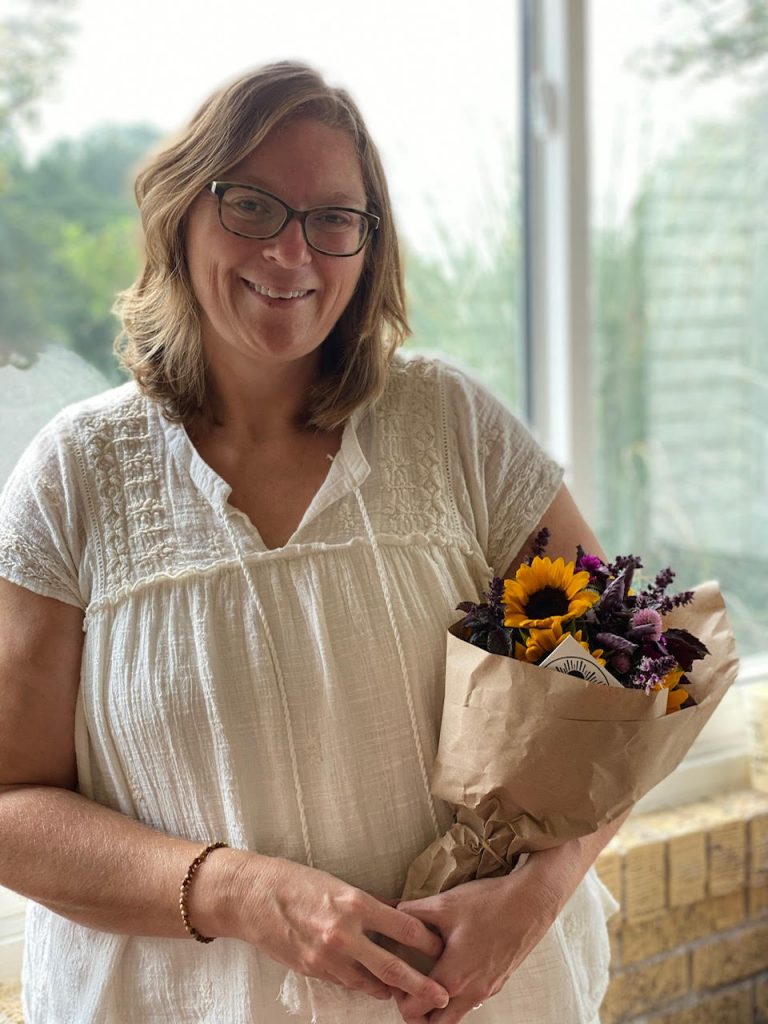 Using pallets and other reclaimed wood, the Thompsons built a 16 by 16-foot one-room cabin. "It was a shack really," admits Thompson. "Everything was used, mostly free, just materials we found and were given." They built a sturdy, weather-proof structure and moved in with their three small children. Solar panels provided energy, a composting toilet served the family's needs, and the Thompson's started an intense but quiet healing period.
"It was a total reset. We reconnected with each other, and were forced to rethink our idea of family life and security. Turns out, we didn't need all that much to survive, or thrive for that matter." For the Thompsons, a spare, simple lifestyle gave them the clarity needed to chart a new course and define priorities: pay with cash, remain debt-free and live off the land.
The shack still exists, but has a new owner; in the years that followed, Mr. Thompson's work schedule was restored and the family purchased a two-acre tract of land and dwelling near Lefler's Place in Mount Gilead. The modest structure comes with more square footage, but the enduring lessons of frugality remain with the couple. The Thompsons are what we would call modern-day homesteaders, and they are attracting quite a following.
Thompson is getting a lot of questions and requests for advice and guidance. "People today want self-sufficiency. They want to do what is right by the land, and to create an environment which supplies their needs but allows them to focus on what matters: family and emotional health." Thompson believes people crave the pleasure and satisfaction gained when things are done right, and done with their own hands.
The Thompsons are in the building stages of a micro-farm near Lefler's, which provides for their needs, but also allows them to share their way of life with curious neighbors and passersby. They grow their own food, building raised beds for flower gardening, erecting fences for eventual animals, and have a new side business selling cut flowers and other handmade and homemade items. The business, called Brave Acre, is a form of outreach to the Mount Gilead community, designed to teach and inspire people and introduce them to the benefits of a healthier, simpler way of life.
"I never imagined our economic disaster would eventually become an economic opportunity," says Thompson. While she is an extremely resourceful, resilient person, Thompson didn't have much experience in terms of setting up a company or selling products and services to customers. Enter the Small Business Center at Montgomery Community College.
The North Carolina State Board of Community Colleges approved an allocation in excess of $50,000 for small business counseling through the Department of Education's Coronavirus Aid, Relief, and Economic Security (CARES) Act. MCC's Small Business Center engaged with Brave Acre, funding confidential, one-on-one counseling with Shannon, to help her define Brave Acre's mission and business model. Small Business Center Director, Savannah Heath, along with a hired CARES Act counselor specializing in ecommerce, worked together to help Thompson channel her entrepreneurial spirit and create a place not just for commerce and education, but a place to find beauty, inspiration, and healing.
"I couldn't have imagined this without by business counselor through MCC's Small Business Center," says Thompson. "They helped me with everything: time management and understanding seasonality, how to focus my expertise to create useful classes and workshops for people, understanding and building the retail aspect of what we do, and even creating a marketing plan, social media calendar and eventually an online store."
Though dahlias are her favorite, Shannon will also sell seasonal cuttings of tulips, daffodils, peonies, ranunculus and more next spring. In the near-term, Brave Acre will open its gift shop to the public on November 7th. Located at 115 Maggie Drive in Mount Gilead, she will offer homegrown, handmade items to shoppers, as well as advice, inspiration and example to anyone in search of a simple, authentic and different way of life. As this micro-farm pioneers its entrepreneurial journey in Montgomery County, one thing is certain, Brave Acre is bringing its community the courage and inspiration to bravely follow the calling of the heart, one flower at a time.