BLET Director Herron Recognized with Scholarship
Published on Wednesday, May 12th, 2021
On April 26th, in the company of 15 graduates, Basic Law Enforcement Training Program Director Pete Herron got a surprise. Mid-way through his cohort's graduation ceremony, one graduate, Taylor Graves, stepped to the podium to announce a scholarship had been established in Pete Herron's name in recognition of his decades-long service to law enforcement and to the students who choose to pursue this career.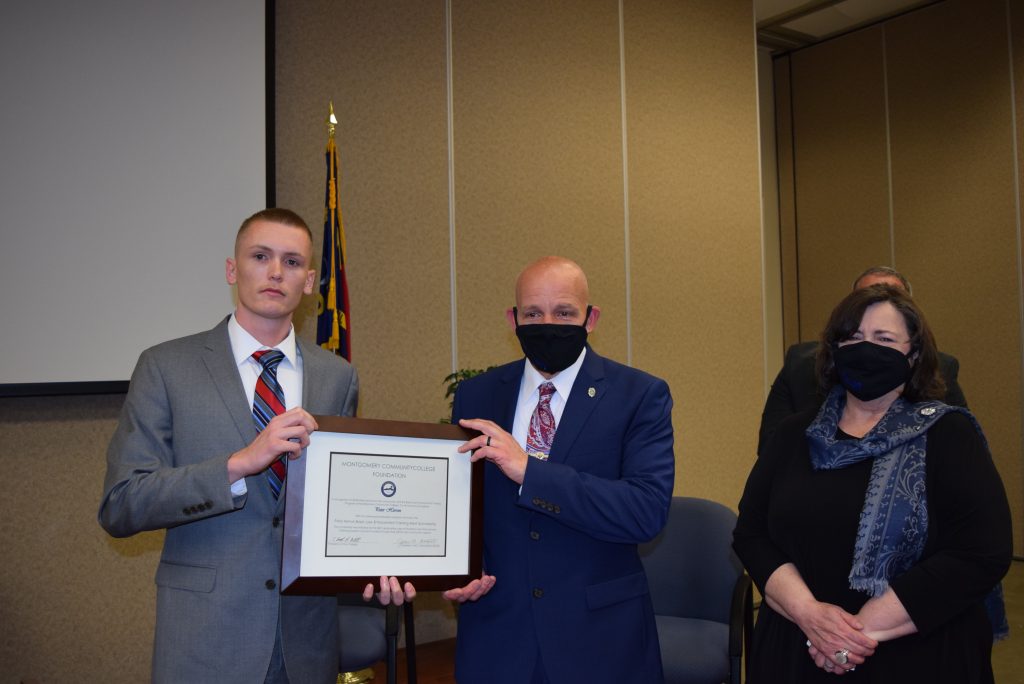 "Here is a person who throughout their career has taken the time to help hundreds of students realize their potential, no matter how long it takes," Graves recounted. "Pete Herron believes in people, and clearly he believes in second chances. He is exactly the kind of person we want in law enforcement, and exactly the kind of person we want teaching future officers. Like all of you, I feel fortunate to have crossed paths with Pete Herron. He has given me an up-close look at what it means to be successful in this profession. He leads through servitude. By putting other people before himself, he shows strength, character and integrity." In addition to Graves' personal funds, local employer Troy Lumber Company gave a generous donation to endow the scholarship, making it accessible to MCC students for years to come.
Herron began his career in the United States Marine Corps, has served as a drill sergeant instructor in the Army Reserve.
He is a retired wildlife enforcement officer and an instructor in martial development, physical fitness, defensive tactics and rapid deployment. More recently, Heron is an architect of Montgomery Community College's Basic Law Enforcement Training program which he now directs. Herron is well-known and revered throughout the state and among the hundreds of officers who have come through his programs.
"This is incredibly nice," said a shocked Herron as he received his plaque. "I had no idea this was coming. It makes me happy to know so many people feel they have benefitted from my work and effort. Words cannot express what this means to me."
MCC has found an impressive niche for its BLET programming with courses running during the evenings and weekends, giving students the opportunity to maintain ongoing daytime income while exploring a new law enforcement career at night. While a minimum of 660 hours of classroom is required, many cohorts finish with 680 or more because of MCC's access to uniquely-qualified experts and instructors.