An Accidental Beekeeper
Published on Friday, June 11th, 2021
In the summer of 2007, Shirley Harris noticed her cucumbers were growing really well. She and husband Tony had always grown some for eating and pickling, but this particular season the vines were producing more cucumbers of exceptional quality than ever before. "It had very little to do with our gardening capabilities," Shirley now admits. "Our neighbor installed a new heating system, and a wooden box ended up in their side yard, and in the process, a swarm of honeybees moved in." At the time, Tony and Shirley weren't sure they wanted the bees around, so they called a local beekeeper who came to have a look. "The bees were thriving and obviously pollinating our garden. After witnessing our bumper crop of cucumbers, we decided they could stay."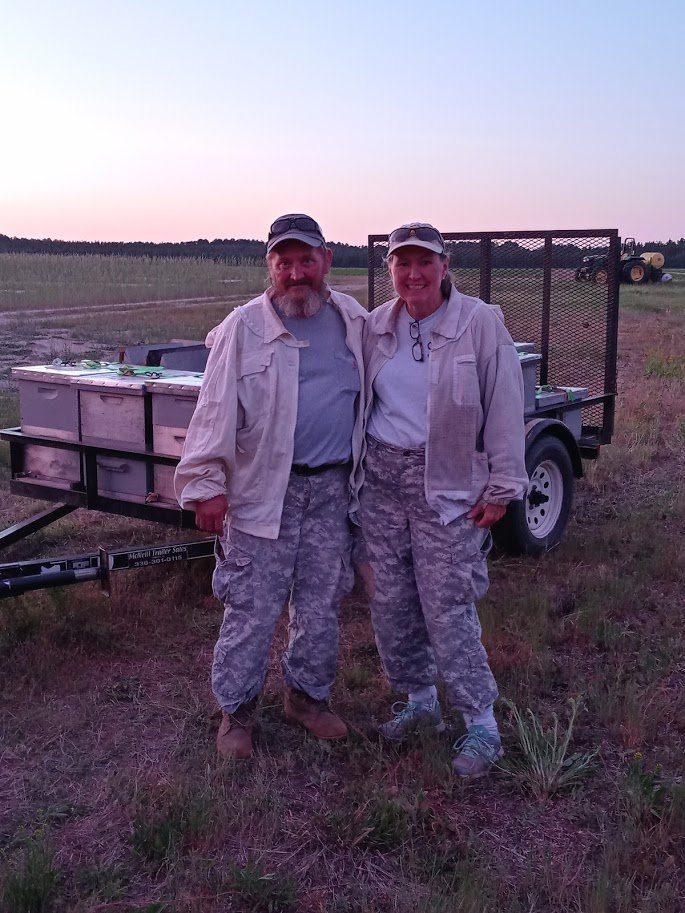 Well, that was hundreds of Langstroth hives ago. Today the Harrises operate a buzzing business, Sweet Bee Farm, at 120 Norman Drive in Candor. Shirley and Tony are in the process of expanding from a retail-type business (they do sell honey at home and at Front Porch on Main, the local Vintage Store in Troy) to a commercial enterprise which sells beekeeping supplies and equipment to other beekeepers. In addition to equipment, bee suits and wooden ware, Sweet Bee Farm also offers pollination services; area farmers contract with the Harrises to bring bees to their fields to assist in their endeavors to cultivate melons, cantaloupes, peaches, blueberries and more. Sweet Bee Farm also offers nucleus colonies and queens for sale which have been inspected by the North Carolina Department of Agriculture and Consumer Services to make sure they are offering healthy honeybees. They are learning to graft queens so other beekeepers in our area can benefit from purchasing a local queen.
"Last year was a tough year to start," explains Shirley. "But in a strange way, the pandemic allowed us to spend time doing foundational things for our next phase." The Small Business Center at Montgomery Community College worked with Sweet Bee Farm to apply for its Qualifying Farmer Exemption Certificate. The SBC also ran numbers past and present to help the Harris's understand their financial break-even points under different scenarios.
In addition to using the College's small business services, Shirley is a regular fixture around campus as a mentor and teacher. She is president of the Montgomery County Beekeeper's Association, instructor of MCC's beekeeping classes, and has been instrumental in the recent construction of MCC's apiary. She will help guide the College in its application to become an official Bee Campus USA site, established to sustain pollinators by increasing the abundance of native plants, providing nest sites, and reducing the use of pesticides in Montgomery County.