A Family Called to Serve
Published on Wednesday, March 1st, 2023
James Atkins, Police Chief for the Town of Troy, North Carolina is teaching at Montgomery Community College tonight, as he has off and on for the last 18 years. MCC's Basic Law Enforcement Training (BLET) program runs September through April, with a minimum of 660 hours of classroom time. Successful BLET students master 36 separate topics from physical fitness, crime scene investigation, first responder, testifying in court, human trafficking, constitutional law and more. Tonight, Atkins is teaching a section on crime prevention. The class is designed to help BLET students educate citizens on steps they can take to keep homes, businesses and themselves from becoming targets of criminal activity.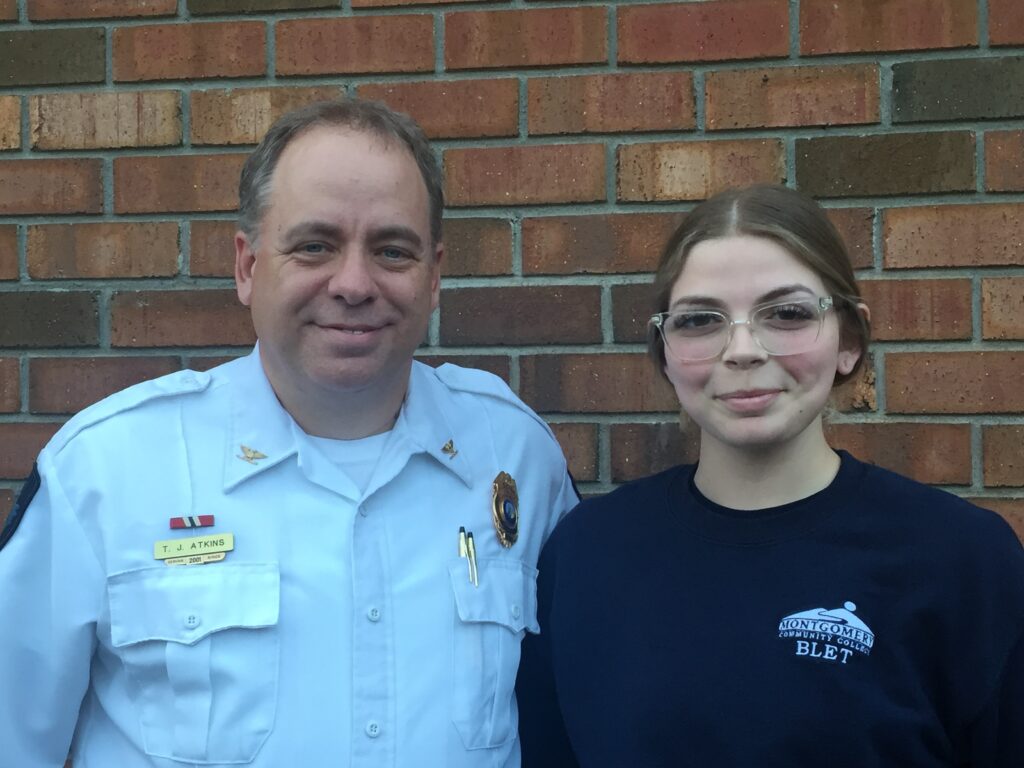 MCC's 2023 cohort of 11 BLET students includes men and women of all ages and races. Atkins is pleased with this group, because they mirror the citizenry of Montgomery County. "It is easier to serve people when they know you and can identify with you," explains Atkins. "The more diverse a police force is, the more capable they will be in their efforts to serve and protect people." Atkins is impressed with each incoming BLET class; students arrive full of ideas, armed with enthusiasm and ready to work. This year's class is all of that, plus a little bit more. This year's class includes Madison Atkins, Chief Atkins' daughter.
"I've been tagging along with my dad for years, so it really isn't that surprising that I am choosing this career. I have seen my dad teach this crime prevention class several times now, before as a young spectator and now as a student," explains Madison. "There's more at stake now of course, because I need to master the material and earn a good grade!"
Chief Atkins is warming up to the idea of another law enforcement professional in the family. "Honestly, this is a good career. It's interesting, and keeps you very involved in your community. You truly help people in moments of need, and that is very rewarding." He admits it can be stressful, and sometimes heartbreaking. "There are times when things don't work out as you wish they would. There are things I wish I could un-see, but that's just the way this job is."
Both Chief Atkins and his daughter have lived in Montgomery County their whole lives. One might assume Madison would want some distance from her father, maybe become a Sheriff's deputy, or serve in another county to create some space and get a clean start. She's not so sure. "I'm considering all my options, but staying here is actually very appealing to me. I'm from here. I know people here, and I think familiarity and understanding is critical to how officers engage with their community."
MCC has found an impressive niche for its BLET programming with courses running during the evenings and weekends, giving students like Madison the opportunity to maintain ongoing daytime income while exploring a new law enforcement career at night. At the program's conclusion, Madison and her fellow classmates will be required to pass a final certification examination mandated by the North Carolina Criminal Justice Educational and Training Standards Commission.
Classes such as the one Chief Atkins is teaching occur in a new facility with multimedia classrooms and a physical training center. MCC also provides two on-site firing ranges and obstacle course for firearms and physical training. Job opportunities for successful graduates include police officer, deputy sheriff, company police officer, campus police officer and state law enforcement officer. If you are interested in a career in law enforcement, contact BLET Director Jeff Dorsett at dorsettj1175@montgomery.edu.
The field of law enforcement is experiencing significant change right now, a trend likely to continue in the coming years. Today's students are helping to define what it means to serve and protect the citizens of Montgomery County. "I am very proud of this 2023 class," said Dorsett. "It takes a great deal of courage to walk into a life of service and be part of a very important, far-reaching solution that protects all people."