The organization shall be known as the MCC Alpha Beta Chi Club (Early Childhood Club). Active membership in Alpha Beta Chi is voluntary and shall be open to full and/or part-time students and employees of MCC of every race, creed, color, national origin, sex or handicap, regardless of their course of study, career or other club affiliations. The club offers advisory, honorary and alumni memberships in addition to its active member. Dues for the Alpha Beta Chi Club will be determined by the members at the first meeting of each academic year. Dues will be paid by each prospective member within 14 academic days of the first meeting of each term.
The goals and objectives of the club are as follows:
Promote extracurricular educational opportunities and activities for club members.
Provide an organization for post-classroom fellowship among members during both formal and informal Early Childhood related activities.
Provide available resources for community service in Montgomery and surrounding counties in the area of Early Childhood.
Provide opportunities for club members to become advocates for families and young children.
Provide job-related work experience in the field of Early Childhood.
Raise funds so that the above goals and objectives can be met. This will be accomplished through various fundraising events and through the conducting of related community service projects.
Advisor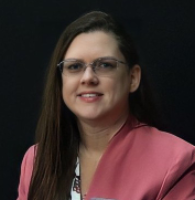 Dean of Health & Human Services
910-898-9709